Granada flamenco cave shows, come on, just hearing and saying those words would make almost anyone want to visit Granada, right?! Granada, like many beautiful locations in southern Spain, is home to some of the best weather, nicest people, tastiest food, and exquisite culture. Many people choose to go to Granada because of the cultural significance of the Alhambra and the Generalife gardens just next to it. This stunning landmark sees its historical roots embedded in the Moors and Moorish culture.
The Cave Dwellers
Dancing is fun, going out is fun, sure. But have you ever gone out to see someone stomp their heart out right in front of you, albeit in a cave!? If you answered: "not yet!" then the Sacromonte district is for you. What's more is that the Sacromonte Abbey is chock-full of lots of neat Seventeenth- and Eighteenth-Century elements that make this district, its abbey, the flamenco temple, and the cave venue a real authentic reason to visit Granada.
This Sacromonte district has the best flamenco show in Granada, hands down! Apart from Sacromonte visitors to Granada are encouraged to check out the gipsy cave, los Tarantos caves, Rocio cave, and the Zambra, that is, the mighty Zambra Maria la Canastera. All of these destinations will have you in awe at the beauty, elegance, and magnificent culture that this glorious corner of Andalucia has to offer.
What To See In Granada In 2 Days

48 hours may seem like an insignificant amount of time to explore any major city. However, the size and sprawl of Granada make the task of exploration in this amount of time quite possible. Just west of the Alhambra is central. Teeming with life, central Granada has many top-notch bars and restaurants to tickle your fancy such as tapas bar Los Diamantes, Restaurante Il Gondoliere, and just south of the river you can find the wonderful Restaurante Raices.

Perhaps seeking accommodation is on the agenda, you might need to book a hotel while visiting Granada, so choose wisely. One of the best hotels that Granada has to offer is none other than Catalonia Granada hotel. Enjoy a luxurious stay with a spa on location in a spacious room that is perfect for couples or the entire family. Booking a hotel ahead of time is one of the best ways to enjoy a full two day's stay in Granada.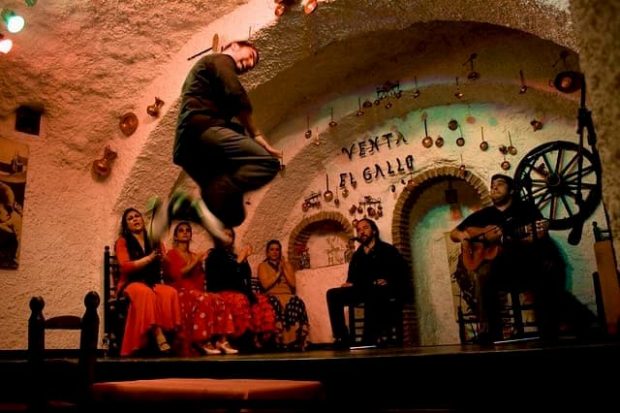 Spanish Culture, Tradition And Why Cave and Tablao Flamenco Is Important

Tablao or table flamenco dancing has its etymological roots in the word "table" "tableau" "tavolo," which all have similar meanings whether we're speaking in English, French, or Italian. Here, flamenco dancers would move about the board or table-top, as flamenco dancing occurs on top of a table, and not always on the solid floor. Exciting, right?! Even better is the fact that you can experience such unique skills in an intimate setting, right in front of your eyes!
The Spanish have immense capabilities when it comes to moving those hips and twirling those hands, its most definitely an unparalleled experience.
A Vacation in Relaxing Andalusia
Dance tourism is huge in Granada, this is because as you should know by now, flamenco in Spain has its origins in, and is integral to, the Andalusian identity. What's more is that nightlife is huge in Spain. And what's better than going out at night to listen to great flamenco guitar riffs? There are many things to do in Granada at night; dinner is usually eaten around 10pm, with subsequent hours spent walking around, drinking, snacking still, and dancing!