Dear holiday, please come faster! After working so long we just want to break the routine, disconnect, save the stress and slopes in a drawer so start by choosing a destination, buy a plane ticket and book the hotel… it sounds easy, right? Well, it really is, especially the booking of accommodation, and thanks to all the advice we have received from our guests through these years, we will share the best way to book a hotel and complete the hotel reservation procedure.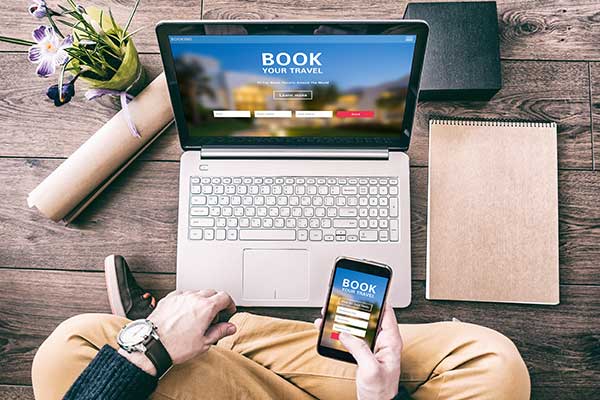 Remember that we are in the 21st century and that most of the people already have a smartphone or any device with internet access, why not use these tools in our favor? Just open your trusted web browser and write the destination you want to visit plus accommodation, thousands of pages will come out and then, right here, the hunt starts, the best offer is out there, you just have to take the time to read what each website offers you. What should you look for? Well, most of these pages offer you the use of filters in which you can choose the average cost, whether you want luxury or not, all-inclusive or just rest, services such as free internet, parking, laundry, among other things.
Once you have selected what you want, follow the research of the five best offers, we recommend you close to this amount of options since you do not need to fill in indecision, so compare the price-quality, if something is not clear, look for the hotel by separately, you will surely find the official website, read carefully its policies, its benefits, you can also visit reputation pages (reviews) and see what advice you get from guests who have already used that service, beware, I do not recommend that you keep the bad comments, remember that we all have different experiences, you can also search for the fan page on social networks, you will surely find publications in real time or even current promotions.
Remember that the most difficult task here is to choose the best option, we repeat it, but really take the time to compare, read cancellation policies, what taxes are included; look for the location, look for the attractions that are closest and those you want to visit or if you really do not care to travel more than an hour to get to your destination; at the end, keep in mind that it is an investment that will give you what you are most looking forward to: rest.
Have you already decided on the best accommodation?
Well, book and have exact travel dates, it is a mistake that happens a lot, but many guests make the reservation leaving a day later and end up missing the flight back home so coordinate well with your calendar. After the registration of official information of the people who will stay with them, ALWAYS, you may be able to make a special request, beware, it will never be confirmed, but at least you already let the hotel know what you want so take this opportunity and inform if you are celebrating something special like honeymoon, anniversary, birthday or if you just want rest and do not want to be woken every day by the ice machine that is next to your room, if you prefer a type of bed, the floor and the location inside the hotel, also if you have any allergies or if you need a special diet.
What's Next?
Payment of the reservation! Sometimes it is immediate and in others, it is directly in the hotel so check the currencies that are accepted or if it is with a bank card. Also, check your mail and be sure you receive the confirmation of the reservation, save it digital or if you consider it necessary, take it in print to the hotel.
Finally
If you have doubts related to the accommodation remember that you can contact the hotel, ask to communicate with the reception or guest service team, they are the departments that usually have more information about the hotel. Do not stress more and start that countdown to start enjoying.