Discover La Semana Santa or Holy Week in Spain, a time full of intensely atmospheric tradition, religion and processions. Still unspoilt by tourism, going to Spain during festival season is the chance to experience passion, music, drums and the unique centuries-old customs.
What do people do during La Semana Santa?
Locals spend all year preparing for Holy Week, which is the week preceding Easter so it's unsurprising that the famous processions are so elaborate and grandiose. Huge processions dominate the streets with impressive statues of religious figures, such as the Virgin Mary placed on floats or pasos that are physically carried by people the Costaleros, who transport each paso through the city on a pilgrimage.
This is physically demanding and each year a dedicated section of the hospital opens up a section specifically for Costalero injuries! It is thought that this is custom that dates back to at least the 12th century and the statues acted as a form of religious education, reminding people of Biblical scenes.
Also forming part of the procession are the Nazarenos, members of the Church's brotherhood and instantly recognisable thanks to their long white robes and pointed hoods.

Sights and sounds
Processions take place throughout Holy Week, culminating with "La Madrugá" where night-time processions take place from Holy Thursday into Good Friday -the most notable is "La Macarena".
Listen to the traditional hymn 'La Saeta' which is sung acapella at a certain point in the proceedings – this is a high point for many followers. Look out for ladies wearing 'La Mantilla', exquisitely embroidered veils worn on the head.
In Seville city, you can join a walking tour of the processions, ¡but book early as the event is hugely popular!
Cultural Easter traditions in Spain
It is impossible to spend Holy Week in Spain and not be swept up in the infectious atmosphere. There are many cultural customs to explore, such as mouthwatering food – and you'll work up an appetite after watching or following a few processions! Look out for Hornazo, a type of giant stuffed sandwich and Buñelos a type of fried donut covered in sugar and cinnamon.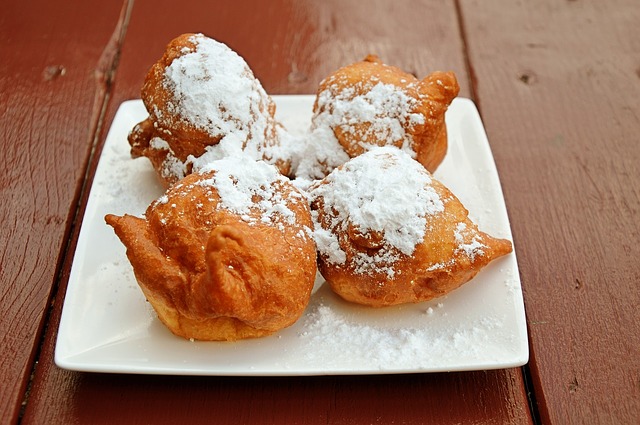 Maundy Thursday through to Easter Monday are public holidays in Spain and Easter Holy Week is regarded as the major holiday of the year, and more important than Christmas to many Spanish who celebrate the true meaning of Easter in a more authentic way than many other Catholic countries. With this in mind, if you are planning to spend holy week in Seville or Madrid, it is wise to book early at popular hotels to avoid disappointment.
If you are looking for hotels for holly week in Madrid, Catalonia Las Cortes hotel is highly recommended with its central location, air-conditioned rooms and free wifi. And if you are wondering where to sleep in Seville, the Catalonia Giralda Hotel is one of the best hotels in Seville with a family-friendly rooms and charmly indoor pool. Book a hotel now and start looking forward to an unforgettable time during La Semana Santa!