What would you think if I told you that, during your visit to the Yucatan Peninsula, you could visit a pink-colored river? Well yes, north of the city of Valladolid is a small fishing village and natural park called Rio Lagartos, from here you can take a boat that will take you to the iconic Coloradas. In order to go to this wonderful beach, we recommend staying at the Catalonia Yucatan Beach hotel.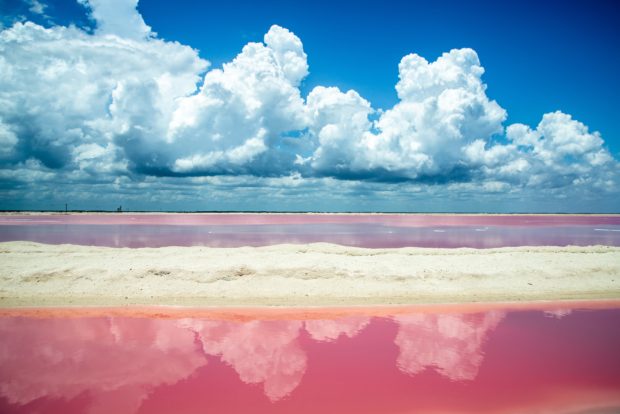 First things first, Las Coloradas are not a beach as such, they are pools or puddles (as they are called locally) of one of the most important salt processing plants in Mexico and to get there there are two options, by road you drive there or by water -our favorite option- because during the tour you will be able to observe some flamingos, crocodiles, sea turtles, and much more local fauna; if you decide for this option then you need to take a boat from the port of Rio Lagartos.
Now, as you can see in the pictures, the water has a pink hue, a total fantasy, don't you think? and this is thanks to the combination of some factors such as the high concentration of salt in the water, the proliferation of some microorganisms called halobacteria, and finally, the sunlight. The tone can vary from pale pink to almost reddish and this is due to the intensity of illumination that the sun emits during its journey over the water.
Upon arrival you must pay your entrance fee of $193MXN per person, it is important to know that you cannot fly a drone, nor can you bring professional video equipment (including large cameras and tripods), and the tour is only on foot, that is, you cannot go swimming because, according to the Secretariat of Tourism Development of Yucatán (SEFOTUR), it is possible that the water may irritate your skin, it is possible that the water may irritate your skin and contaminate the pools with sunscreens or other substances, affecting the production of salt, so any photos you want to take with your cell phone must be on the dirt walkways or from the viewpoint that offers a 360° view of the site and has an additional cost of $40MXN per person.
The tour must always be with a certified guide, who will provide you with more detailed information about the microorganisms, the process of harvesting salt, and some important extra information such as that these pools can be saltier than the Dead Sea, can you imagine? From this fact you can deduce that, if they were allowed to enter the water, you would be able to float without the slightest effort.
In fact, if you were to take a flight from Mexico City to Cancun, you could see them from the sky because the plane's route passes just above this point. The pools are shallow and the water temperature can reach up to 50°C (122°F).
To get to this attraction we recommend taking a tour because the ride is long (3-4 hrs one way), especially if you are traveling from somewhere in the Riviera Maya, but that does not take away your enthusiasm because, in addition to Las Coloradas, most tours include a visit to one of the pristine beaches that are on the same coast, blue tones like the Mexican Caribbean and warm water. You can also do a road trip and visit the picturesque town of Valladolid and from there head north to Rio Lagartos. The truth is that either of the two options is fine, however, if you opt for the first one, look for a certified agency that offers sustainable tourism as there is a lot of biodiversities involved.
Finally, we share with you the same recommendations as always to make the most of your visit:
Protect yourself from the sun with a rash shirt, cap, or hat, or, failing that, sunscreen, but always biodegradable.
Pick up your waste if you consume some food and/or beverages.
Always respect the guide's indications during the tour and at the final destination, it is an act of honor and it depends on it that the spaces are preserved as authentic as possible and tourism continues to grow.
Take as many pictures as you can, you will never know if it is the only time you will visit that place.
We hope you enjoy it as much as we did.