Given the global growth and the thousands of options available around the world, finding a place to vacation in which it is possible to rest, relax and get in touch with nature, without neglecting luxury and fun, and also being accessible, may seem easy.
However, no destination meets these requirements as the Caribbean, a paradise in which Catalonia Hotels & Resorts has seven of the best holiday resorts that year by year are positioned through the preference of its visitors, among the best options to live an unforgettable vacation.
Given this panorama, in Catalonia Hotels & Resorts we recognized the importance of showing our target audience the best photographs and videos of our resorts, but in a much more sincere manner and closer to the people, spreading the wonderful context where our properties are located, our gastronomic offer, rooms, activities and in general everything that a guest can find during his stay.
We started publications in our Instagram account in 2013, from that moment we began to catapult the brand by opening our target to more than 500 million users of this social network. In 2015 with just 6,000 followers, we were positioned by Hosteltur.com in the Top 5 Instagram accounts of Spanish hotel companies with the highest number of interactions per publication and the 1st place in percentage of Engagement. By the year 2016 we had more than 14 thousand followers and before finishing this semester we reached the number of 21,900 followers, originating mainly from the United States, Dominican Republic, Chile and Argentina.
Our publications obtain on average 600 daily organic likes in three different schedules, reaching our audiences in the United States, Europe, and Latin America. To this date, we have accumulated 284,594 likes in sum of all our publications.
Our Strategy
– Generating content
We've integrated a department of Digital Marketing of 10 people; A Community Manager for each of our resorts in Mexico and the Dominican Republic who are responsible for generating and telling the stories of our resorts through photographs, videos and recently through Instagram Stories. A Designer, who produces the art for special posts such as sweepstakes or special offers and finally the Social Media Supervisor, who makes a monthly content plan and a style guide, chooses the photographs, videos, and stories that will be published daily. We base these decisions by measuring and monitoring content from month to month, posting what users surely want to see: photos and videos of their dream vacation. Since 2016 we hold a contest every month, where we give away a stay for the winner, either in one of our hotels in Europe or in one of the Caribbean resorts. This strategy has exceeded expectations and has become an attraction for all our fans, which are looking forward every month for the opportunity to win.
– Story Telling
We take advantage of the flexibility of Instagram and its new features, not just posting pictures but making stories. Through Instagram Stories and Live Streaming, we seek to generate content that connects with our audience, empathetic and honest but at the same time capable of adapting to the fleeting messages currently handled by most social networks. We show the human side of our brand and with this type of content; our public can start their experience in Catalonia Hotels & Resorts online.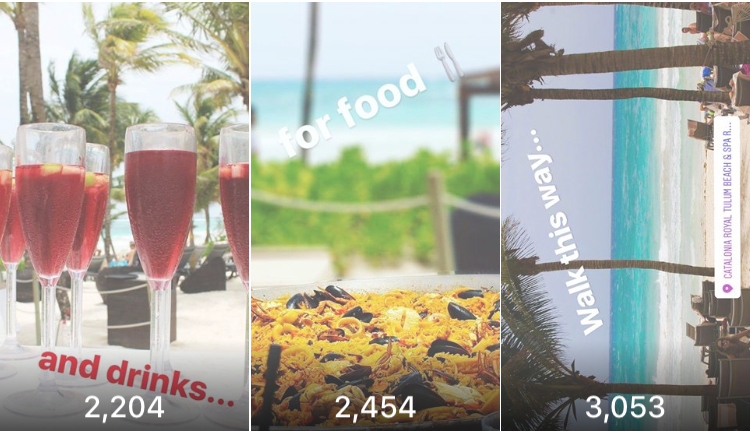 – User-generated content
Our hotels have a lot of "Instagram Spots" with hammocks and relaxing areas for selfies, giant hashtags, colorful letters, frames, gardens and even small jungle animals, and definitely our best scenario: the wonderful Caribbean Sea. This is how we encourage our guests to generate content from their point of view, what they like best, what attracts their attention. Our guests love having their accounts full of beautiful landscapes, spectacular views or avant-garde architecture among their images, they are ambassadors of our resorts and we want them to communicate through Geolocation and Hashtags that we spread daily through our posts. Taking advantage of all this generated material, each week we make an average of four reposts of images or videos from our guests, in order to share their best moments and that other users can also learn more about the experience.
– Invitations to influencers
Since we started with our account at Instagram, we started inviting influencers, travel bloggers, cool hunters, and celebrities, with the aim of expanding our audience, taking advantage of the credibility they have with their followers. We ask our guests to spread through their images not only our properties in Mexico and the Dominican Republic but also the whole experience of staying in our resorts and the natural beauties that surround them.
Keeping such a strong and active strategy on Instagram has been beneficial for the recognition of our brand, the result is confirmed by seeing our numbers in each publication, but it is perceived much better when guests are sure that by following our account they will get to know in advance everything relevant before their stay, that security makes our account @cataloniahotels a case of success.
This year Catalonia Hotels & Resorts won 7 Magellan Awards. Check them out!