More importantly, where to eat paella in Valencia. Most people visiting Spain for the first time often ask the same question about paella: where in Spain is paella from? Paella is originally from Valencia. It's important to know that Valencia is the name of the city in that region, but is also the name of the autonomous community, or province where the city resides. Valencian paella is traditionally served up with chicken and green beans, but other varieties are popular as well. Such varieties include seafood, and lots of it! In fact, most people tend to assume that a sea food paella that comes with clams, oysters, or mussels, is common. Such is not the case, chicken and beans are the original paella! So, it may be common to get seafood-based paella served on a bed of rice all up and down the Mediterranean coast of Spain, but the traditional, real, authentic paella comes from the city of Valencia and its autonomous community of the same name!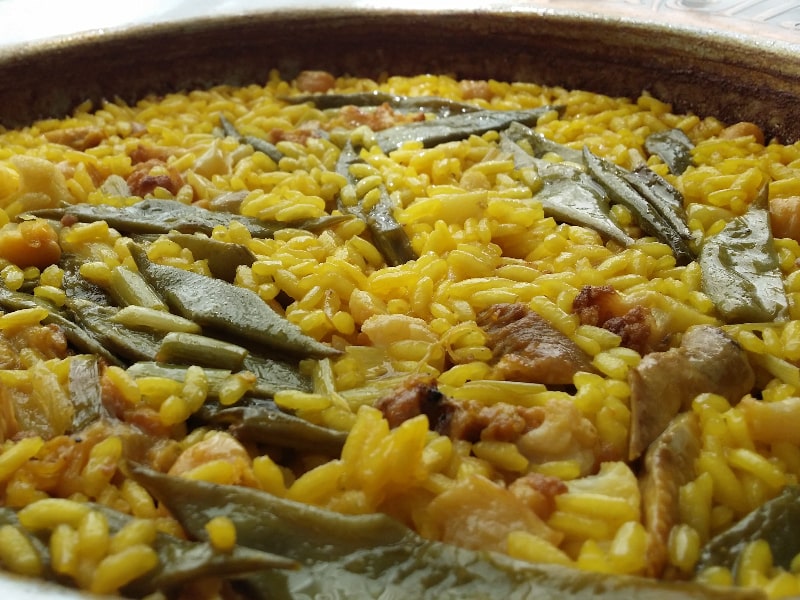 Some of the top places for paella in Valencia are located right in the city center, also called: Ciutat Vella. Bon Aire is good, but in reality, the best Paella in Valencia can be found at "Alioli" sauce on Carrer de Padilla, 1.
What makes this culture spot such a needle in the haystack is that it is a takeout restaurant, whereby there are up to 8 different paella options to choose from! While the most traditional paella comes with chicken or rabbit and fresh green beans, other sea food medley varieties are to die for as well! So, if you're looking for paellas that press the palate, consider "Alioli"!
Good eats on the beach you say? No problem! Casa Carmela, La Paz, and La Pepica are wonderful locations to grab some seafood if you've been eating too much paella.
Outside of the city proper
There are a few exceptional restaurants just outside Valencia that boast some delightful paella treats. Here are just a few:
Alqueria Del Pou
Located close to the famous City of Arts and Sciences you'll find Alqueria Del Pou. It's at Entrada Rico, 6. A wonderful menu that is suitable for tourists and locals alike. It's recommended that you book a reservation in advance if you are planning to eat during lunch time. But remember, lunch time in Spain can go between 10:00am and 3:00pm, depending on where you go, so make sure to plan accordingly.
Alquería Del Brosquil
A little further South from the restaurant listed above is Alquería Del Brosquil. This restaurant has great view, nice atmosphere, and serves up some of the best wine available!
Restaurante Casa Granero
This restaurant is situated right in the middle of Parc Natural de la Serra Calderona. Its exact location is just a short drive North of the city: Calle Cantó de la Torre, 9. Casa Granero is an exquisite restaurant for those looking for a fine-dining experience. Expect this paella to be a little pricier than those located directly inside the city.
A great place to stay
Of course, Valencia is on the Mediterranean coast, and therefore it's fairly warm year-round. However, sometimes it's nice to set up that firewood and enjoy a toasty evening by the fire. Hotel Catalonia Excelsior is just one such place to go to warm up or chill out in between one's paella snack attack!