The day is coming and you want it to be more than spectacular?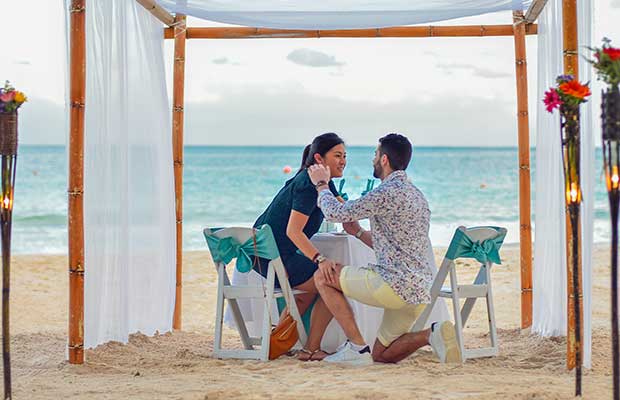 Propose marriage to the love of your life, it must be a time to remember together forever. Thinking just about making your way easier, we share 10 great ideas that we know in #CataloniaWeddings are perfect because these really capture the couple´s love in any of our Catalonia Resort in the Riviera Maya:
1.- Plan a secret Romantic dinner
We love our dinners! We take care of every detail of a romantic night in the beach, we place the gazebo and table for two, decorated with torches, flowers, soft lighting and from the hand of our charming wait staff you can savor the moment with our superb 'Surf & Turf' lobster and steak menu and having an amazing beach as the lay-out it is by far the perfect base to pop-up the big question. We plan everything and love holding the surprise up to the last minute right there with you.
2.- Propose on the Beach or in the Hotel (with balloons and champagne)
Wrap the engagement ring on the edge of the ballon or have her find lots of them in the room or on the beach, by the pool or wrapped around a palm tree; you name it! We have many elements to display the ring to her, we love to hear your ideas or give you some.
3.- Hire a Band: Serenade during dinner.
Is she in love with that song she heard once in a party and wants to surprise her with the mariachi version? We will play it. You can choose one of our many locations available for a romantic dinner and we will get to you the tunes of your preference from our large selection of musicians, from a violin player to a soft singing duet. We have it.
4.- Make arrangements with the Romance Planner to present the ring in a box made of chocolate during dessert.
We guard the proposal ring with our life and place it inside a made-in-the-moment-chocolate box. You can begin dinner with dessert. Or be patient and wait until the end of dinner. We can also place it inside of an open rose for her to discover.
5.- Write Your Marriage Proposal in the Sand.
We love playing with sand! From a heart with text up to a 3-meter long sculpture, we can create that custom idea you have been thinking about.
6.- Experience the "red thread of destiny" ritual.
"An invisible red thread connects those who are destined to meet, regardless of time, place or circumstances. The red thread can stretch, contract or tangle, but never break. " This ancient oriental legend reveals the mystery of soulmates.
In Catalonia, we customize this tradition to your liking so that at the time of asking for marriage, you tie the red thread to the finger of your lover and express to them that they have always been united by this red thread, and now finally destiny joined you to be together and never separate.
7.- Propose When the Time is Right.
As you know this is the timeless classic way, this is the part you make and we are ready to make everything around that moment be perfect as well, with decoration, music, we suggest the best time of day and location to highlight the moment.
8.- Take a picture: Capture the Moment Forever.
Since we have an In-House photographer, we organize a couple's session on the beach and around the hotel for the two of you, at perfect lighting time, from dusk to dawn. Together we orchestrate the actual moment in the ideal location so the perfect picture gets captured and immortalized.
9.- Surprise her with Romantic amenities and turndown.
Either as a continuation of the proposal moment or if you wish to bring the big question in the room, we have many amenities designed especially for your suite that show love in all of its forms.
10.- Set up a Romantic breakfast in bed with flowers.
Including heart-shaped pancakes and all the nice flavors to begin your day in sweetness, we love to pamper you from the morning on. We always encourage our guests to try one of our amenities, like the 'Lifetime Love' package that begins with breakfast in bed, continues in our Alegria Spa with a couple's massage in one of our double cabins, then to a dinner on the beach for you and ending the night with our romantic turn down in the room, all for a full day of romance.
Let us be your accomplices in your love story! A Romance planner is ready to help you in every single one of our three resorts All-Inclusive in the Riviera Maya: Catalonia Playa Maroma, Catalonia Royal Tulum or Catalonia Riviera Maya to bring you're the best options and with the expertise of our talented Wedding Planners.
Ask for our Weddings Packages and Proposal options information to mexico.eventos@cataloniahotels.com