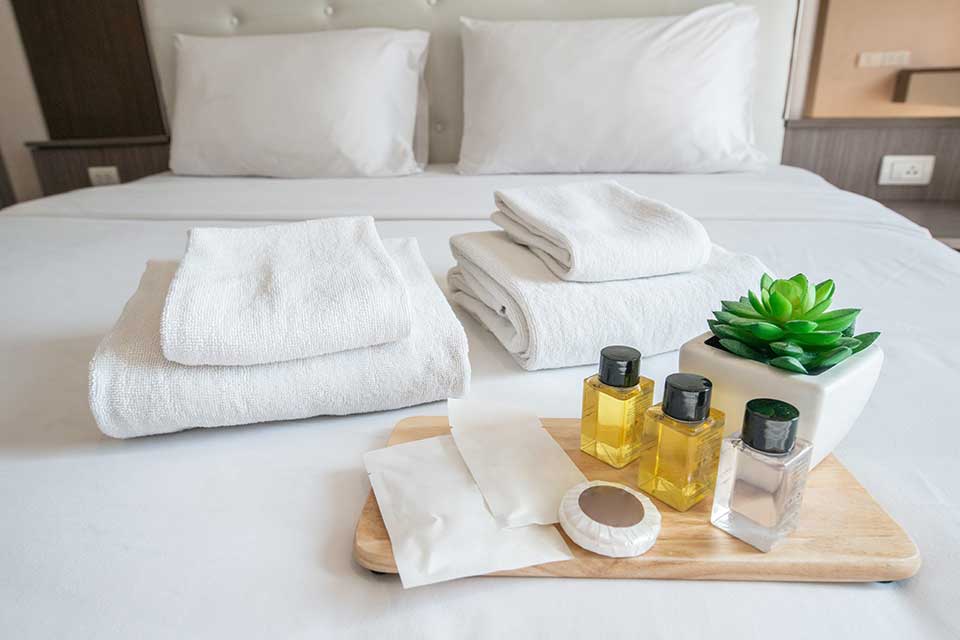 Business hotels are growing. These provide multiple ideal amenities for business travellers that they need to be connected all the time.They are all those products or services that add warmth to the welcome of the guest. Surely you know them and even collect them, since they are all small utensils that we put at your disposal to facilitate your stay and make it more comfortable.
The products are varied and sometimes you find them distributed inside the room and more commonly, resting on the bed. They are products that you can take from home, but that we put at your disposal so you don't have to worry about those little details.
In Catalonia Hotels & Resorts, in addition to the above, we offer you a welcome drink and a bottle of water to those who book through the web. We also offer the possibility of early check in and late check out through our Catalonia hotels website, always based on availability. There are even amenities of a higher category, where customers enjoy greater comforts than in the normal version.
These can be found in Premium rooms, superior rooms or suites, as in the rooms of Catalonia Hotels & Resorts, where a good glass of champagne is not lacking. In general, cheap hotel amenities are usually simpler and scarcer than those of a luxury hotel, but they are not always closely linked to their category.
The hotel's amenities are classified depending the types of hotel and rooms categories. Also, the best hotel's amenities depend the customer needs and wants in a hotel.
In a hotel, is common find amenities in the bedroom and outside the room.
Hotel room amenities
The quality of the room amenities can make-break the customer experience. Here, you can find a list of common hotel amenities.
Bedroom amenities:
Kitchen facilities, like: fridge, coffee maker and microwave.
TV with cable.
Hair Dryer.
Essentially kit, like: soap, shampoo, body milk, conditioner…
Towels
Outside the bedroom:
Dining options
Recreational activities
Swimming pool
Parking
Hotel's Amenities by travellers' type
The best amenities depend the type of traveller visit the hotel. So, you can find many hotels oriented to a specific traveller. For that, the hotel's amenities are determined by hotels type and traveller.
For business travellers
Business hotels are growing. These provide multiple ideal amenities for business travellers that they need to be connected all the time.
Normally, a business hotel amenities examples are: Free Wi-Fi, connectors for laptops and electronic devices, desks in the rooms, ironing kit and laundry service (additional charge) in some cases. In the Catalonia Hotels & Resorts located in the cities, the amenities have a higher standard. They offer comfortable spaces to have a snack while you have a business conference, comfy lounge for business meetings, the best coffee shop in town, and more.
For vacations travellers
When you think about your perfect vacation, you imagine yourself being spoiled without thinking about anything, just relaxing.
Therefore, the amenities play an important role for a perfect holiday. In these times, a coffee maker, a refrigerator, restaurants for dinner and spa are not enough. By that Catalonia Hotels & Resorts takes your vacation to another level offering unique amenities such as: Refrigerator with drinks and daily refills, pillow menu, room service, discovered service, sauna included, themed restaurants and much more.
Also, for family traveller you can enjoy family amenities to improve your vacation such as: family room with family bathroom, baby cribs*, kids stay for free until 6 years, babysitters service (extra cost), kids club with activities and supervision all day, car no motorized for kids (extra cost) and more.
And don't forget the hotel food amenities oriented to all families such as: kids menu and kids buffet, smart healthy snacks, cakes and cupcakes for birthdays, and amazing amenities (extra cost) with share in family.
For couple travellers
How many times have you thought about going on vacation with your partner and enjoying quality time together? At that moment the amenities for your romantic escape to paradise play an important role. Hundreds of hotels do not offer amenities suitable for couples, some just bathrobes, room service and welcome details.
Just look a little more, you can find hotels with rooms and amenities designed for couples, such as the Romance Rooms of Catalonia Hotels & Resorts. These rooms give that ideal touch to your vacation offering you high-end amenities and such as:
Romantic discovery in the room.
Continental breakfast in the room.
Romantic dinner on the beach.
Couples massage.
These amenities for couples really complement an unforgettable vacation. Now you just have to find the hotel that suits each of your needs