As you must know in Mexico, we consume the delicious vitamin T, do you know what it is? It's the one that comes in the form of Tacos, Tamales, Tostadas, Tortas and Tequila. However, Mexican gastronomy is much more extensive than that and each region has its unmissable dishes to try, not for nothing UNESCO declared Mexican gastronomy Intangible Cultural Heritage of Humanity in 2010.  
If we were to list all the Mexican dishes you MUST try, we would not end up, but since you are coming to the Riviera Maya, we will focus on the gastronomy of this region. Yucatecan food is not to be missed, it is definitely delicious and very colorful. Don't leave without having tasted it, either during the excursion or when you visit the towns around our hotels, give yourself the opportunity to try this flavor. If you don't know where to start, we share the following options with you, I'm sure you'll like at least one of them very much.  
Panuchos and Salbutes
The basis of these two options is the same dough we use for corn tortillas. The traditional panucho consists of a thick corn tortilla that is cut on the edge and filled with blended beans. Then it is fried in oil or manteca. Later, cochinita pibil, red onion in vinegar and habanero pepper sauce are placed on top. On the other hand, the salbute is a corn tortilla fried in oil or lard (preferably), so that it is a little swollen and soft, served with lettuce, julienned tomatoes, tanned onions, shredded turkey or chicken meat and avocado. It is usually served with a hot sauce made from habanero peppers. These little treats are cheap, especially if you find them with a street vendor.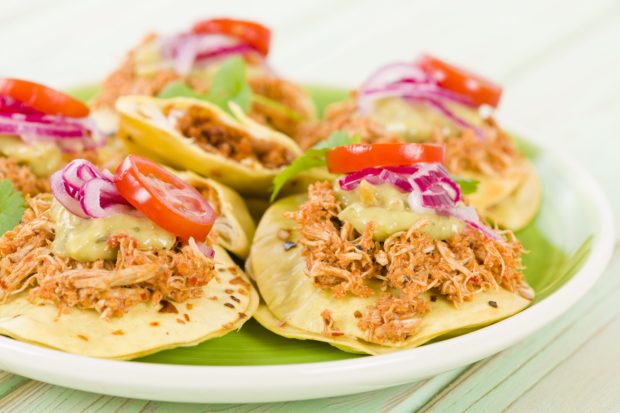 Lima Soup
This is a very simple and light dish. Many would think that its main ingredient is, as the name says: the lime, but it is not, rather it is a chicken broth seasoned with lime, spices and chile, it is served with fried tortilla strips, diced tomato and you can also add a little bit of avocado and lime slices. Although it is a soup, it is a dish that can be enjoyed perfectly on hot days.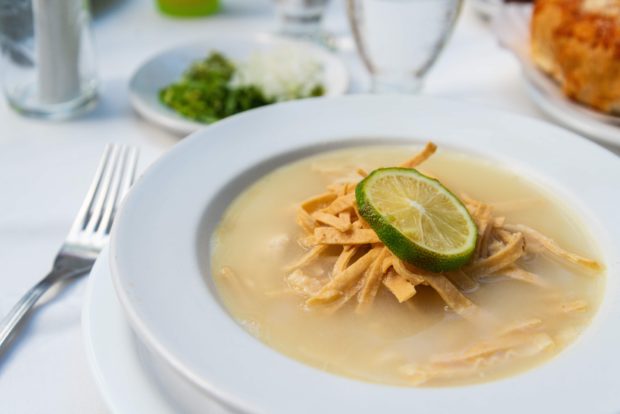 Queso Relleno
If we translate it directly into English its name would be Stuffed Chesse and it consists of a piece of ball cheese (Edam type) hollowed out and filled with minced meat with capers, raisins, olives, almonds, boiled egg, sweet chili and big pepper, then cover the cheese and steam it, it is presented in a wheat flour sauce called Kol (made with either corn dough or wheat flour, turkey broth and other seasonings including epazote) and tomato sauce. Until today it is not well known how a European cheese ended up being an important part of this dish, some natives say it is due to a Dutch ship stranded off the coast of Yucatan and others claim that it is a product of smuggling through Belize from Suriname. Could you imagine its presentation? Neither could we, but until you see and taste it, you'll know it's a delight.  
Cochinita Pibil
In the Mayan language, Pibil refers to a food that has been prepared in a ground oven known as a pib, it is an ancient Mayan technique. What is the oven like? It is literally a rectangular shaped hole dug in the ground, at the bottom of which wood is made to burn and when the embers are obtained, flat stones are placed. Once they are heated, the stew is placed to cook, and then covered with banana leaves, metal sheet and a layer of soil in order to seal the hole and prevent the steam or liquids from escaping from the cooking. Especially the pork is wrapped in banana leaves, as if you were making a package, and depending on the quantity, it will take the time it is ready, but normally it goes from 3 to 4 hours. Now, how do you prepare it? It is pork marinated in annatto, the latter being the pigment that gives it its reddish color. Once the cochinita pibil is ready, it can be served in tacos, salbutes, panuchos or even tortas, it is accompanied by red onion tanned with lemon and habanero pepper. Delicious, isn't it?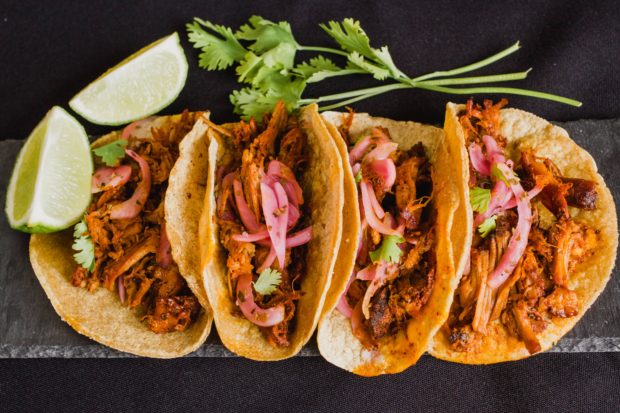 Now that you know about these dishes, go ahead and try them during your visit to Mexico, you won't regret it. The only thing we recommend is that you always ask about the ingredients in the dish in case you have a special diet or allergies, which can vary in some places; and if you are afraid of the language, there are guests who even bring a little card with the words "What you can't eat" in Spanish, so the vendor will know what to change the ingredient with or recommend another option.