If you've already seen the main sights in Berlin or you are simply looking for somewhere off the beaten track to see the hidden gems in Berlin, then look no further than our guide which details what locals do in Berlin and where to stay.
Viktoriapark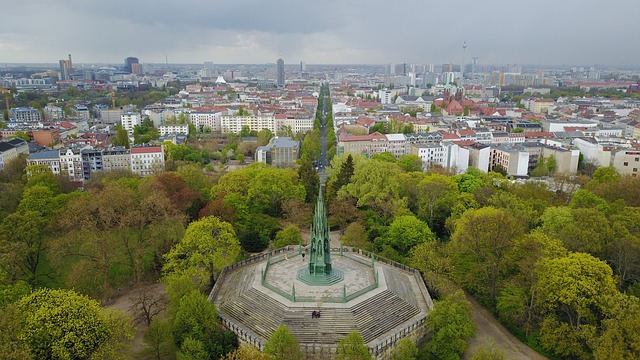 This park boasts a waterfall, a national memorial and a vineyard – all in one place! Located in the Kreuzberg area, also the name of a 66-metre-high hill it has its very own beer garden and is located near to the Bergmannstraße and Marheinekeplatz which are the perfect places for shopping and to enjoy a coffee.
Hackesche Höfe
One of Berlin's most popular attractions, these traditional courtyards at the Hackescher Markt are the main meeting places for Berliners and tourists alike. With a history dating back through the centuries, the courtyards here are home to bars, theatres, shops and galleries, offering the visitor plenty of things to do in Berlin, no matter what their taste.
Spree-Ufer
Enjoy a walk as a couple, a family or simply alone and head to Spree-Ufer. Extremely popular with Berliners, this walkway along the River Spree has gardens, boat trips and a square lined with cafés, pubs and a beautiful historical clock. The St Nicholas church and a George and the dragon statue can also be found here.
Halensee beach
Although currently closed, the Halensee beach is located on an idyllic lake near the centre of Berlin. Whilst the beach is closed, the Ku'Damm Beach bar located there allows customers to rent chairs and umbrellas and enjoy a swim in the lake if eating or drinking there.
Mauerpark Flea market
The Mauerpark Flea market is a favourite amongst tourists and Berliners alike. This street market in Berlin takes place on Sundays from 9 a.m to 6 p.m and is mainly made up of private sellers with stalls selling vinyl records, toys, clothes, bicycles and musical instruments. Get there early to grab the best bargain!
Where to eat
Time Out Berlin has some top recommendations for places to eat in Berlin and as well as local restaurants and pubs, it has a guide dedicated to street foods, a growing trend in Berlin and ideal when you are on the go, discovering somewhere new! Abandoned warehouses, former beer halls and refurbished boats on the River Spree.
An annual event, Stadt, Land, Food is dedicated to food on the go but if you aren't in town then top choices include Indian food at Chai Wallahs, Bite Club for Indian, African and Asian dishes and for a weekly event head to Street Food Thursday in Market Hall Nine.
Markthalle Neun reopened its doors in 2011, 120 years after its original opening. It is open every day except Sunday for day to day shopping and on Tuesdays, Fridays and Saturdays there is an additional traditional market held.
Specialist shops include a craft beer shop, a pasta maker and a tofu focused café. Their Thursday evening event is always popular so get there early for a table to enjoy food from across the world including Mexican tacos and British pies.
Where to sleep
For a truly central Berlin stay, choose the Catalonia Berlin Mitte Hotel, located within walking distance of Museum Island and Alexanderplatz. Designed to recreate the industrial, edgier style of Berlin, the walls of the hotel are exposed brickwork or specially commissioned Graffiti works by artists from Berlin. The building dates back to 1911 and was once home to members of the STASI during the Berlin Wall era. Every room has a minibar and safe, a Smart flat screen TV and free WI-FI.