Salamanca, in northwestern Spain, is one of the country's most visited towns and is found on every list of must visit places in Spain. Declared a UNESCO World Heritage site in 1988, the old town boasts numerous examples of stunning architecture and is a rewarding destination for history buffs. Whether you want to head to a museum, a chapel, an old square, or all three, it's a great place to immerse yourself in the past while enjoying modern comforts.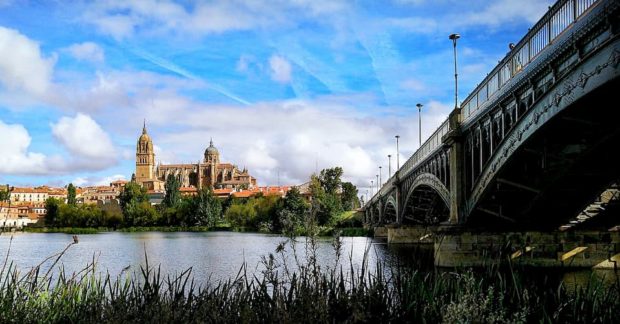 There are almost too many historical sites to mention, but here are some of the must-see spots to check out while visiting Salamanca.
Puente Romano
The old Roman bridge crosses the River Tormes and is thought to have been built in the first century A.D. Of Romanesque stlye with twenty six arches. It's quite a sight, especially at night when each arch is lit up. It really gives you a sense of this city's historical significance,so it's a good place to start your tour. Look out for the bull that features in the famous Spanish work Lazarillo de Tormes.
Plaza Mayor
Most towns in Spain have a main square, and Salamanca's is one of the most impressive. It's huge and perhaps the most beautiful you'll see, thanks to it's ornate buildings and fine examples of Baroque architecture. It's a perfect place to wander and soak up the atmosphere.
Casa de las Conchas
This 16th-century palace was built by a knight of the Order of Santiago de Compostela. Completed in 1517, it is famous for its unusual shell-covered façade. Shells were a symbol of the Order of Santiago. Today it houses a public library so as well as stopping to admire the exterior, take a look inside to get a sense of the whole structure and courtyard.
Clerecía
Next door, you'll find the Iglesia del Espíritu Santo. Its construction began in the 17th century. It was used as a church and school rooms for the Jesuits, and also had a private section, where the monks lived. It is now the the base of Salamanca Pontificia University. Enjoy its stunning Baroque style, especially the bell towers with great views over the city, and the cloister.
Salamanca University
Located in the historic town centre, this is one of the most important universities in Spain, and one of the most beautiful universities in the world. Founded in the 13th century, the old buildings have intricate, ornamental carvings, including a frog that visitors try to spot! To learn more about the history of Salamanca, head to the Old Cathedral of Salamanca, next door.
A visit to St. Stephen's Convent, just down from the cathedral, should also be on your itinerary. This historic Dominican monastery has attractive Gothic cloisters and an impressive ornate facade. Visit the informative exhibitions inside and enjoy the peace of the church.
Where to stay:
There are plenty of hotels in Salamanca, with choices for every budget and taste. A good central option, right in the heart of the old town next to the main square, is Hotel Catalonia Plaza Mayor Salamanca. This rationalist-style building features an outdoor pool, a gourmet corner bar restaurant, and a gym. Free WiFi and comfortable rooms make it a perfect spot to relax after a busy day getting to know the best buildings and landmarks in Salamanca.