Looking for the best things to do in Salamanca? Known as the 'city of knowledge', this beautiful Spanish city is full of landmarks and is perfect for anyone who loves architecture, art, and good food.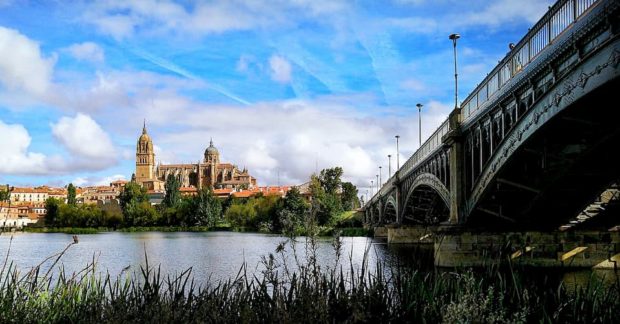 This historic city has more UNESCO-listed sites than any other city in Spain, and there are plenty of interesting museums, monuments and places to eat that will make you want to return. Here there is a list of the best ten things you can do in Salamanca.
Salamanca University
The University of Salamanca is one of Spain's oldest universities, with a history dating back to the 12th century. It is also one of Europe's most beautiful university campuses and a great place to spend a few hours wandering around. It is located in the old part of town, near Plaza Mayor.
Plaza Mayor
Located in the old part of the city, this square is a UNESCO World Heritage Site and is a great place to watch the world go by. You can also enjoy a drink or meal at one of the many cafes.
Casa de las Conchas (House of Shells)
Also located in the Old Part of the City, it is four minutes walking from Plaza Mayor. Casa de las Conchas is a small building which looks like it has been constructed out of shells. The outside is covered in more than 100,000 shells from all over the world, and it was built by an owner who used to be a sailor.
Today the building houses the Salamanca public library.
The Old and the New Cathedral
They are mentioned together because both cathedrals are joined together. The New Cathedral is a mix of two styles: Gothic and Baroque, whereas the Old Cathedral was completed in Romanesque and Gothic style.
Pillars of New Cathedral can reach a height of 80 meters. The New Cathedral is also known as "Torre del gallo" and has small sculpture details.
Both are perfect to lose the track of time and travel to past times and, what is better, both of them are near Plaza Mayor and Casa de las Conchas.
Casa Lis: Art Nouveau and Art Déco Museum
Located in the old part of the city, Casa Lis is a beautiful Art Nouveau building which was built in 1905. It has been converted into a museum which showcases the work of some of Spain's best-known architects and designers from the 1890s to the 1930s. The museum also features some stunning art deco furniture and ceramics.
Church of San Martin de Tours
This church was built in the 13th century and is one of Spain's best examples of Romanesque architecture. The inside is also impressive, with beautiful columns and arches made from granite stone. There are many other churches that are worth visiting, including La Magdalena, San Juan de Rabanera and Santo Tomás.
You will see it as soon as you leave Plaza Mayor, since you just need one minute to arrive there.
Clerecía
It is among the oldest buildings in Salamanca, built in the early 13th century. It has been a religious building, a library, a university and even a prison. The inside of the building is very interesting to explore, and it features some stunning architecture, including some of the original wooden beams dating back over 700 years.
Since it is another historic building, you will find this building in the old part of the city, near Plaza Mayor.
Convento de las Dueñas
Being a former convent, the Convento de la Dueñas is a great place to visit. You can take a guided tour of the beautiful building and learn about its history.
It was founded in 1419 by Juana Rodriguez Maldonado in her own palace. The convent still keeps some original mudejar gates and you will find it in a few minutes from Casa de las Conchas.
El Campillo
In El Campillo you will find a beautiful ancient church and is located about 10km from Salamanca. The name's church is "San Pedro de la Nave", built in a Visigothic style.
However, this church wasn't always in the same place that it is today: it was removed in 1931, since the location is now submerged by a lake.
Its carved capitals rank among the finest sculptures produced in Christian Spain.
Where to stay in Salamanca
While visiting Salamanca, there are various accommodation options that you can take advantage of. You will find the great Plaza Catalonia Mayor Salamanca Hotel located in the center of Salamanca, next to Plaza Mayor. It is approximately an eight-minute walk from the University, the Cathedral, and the Casa de las Conchas. All this makes it the ideal place to stay when visiting Salamanca.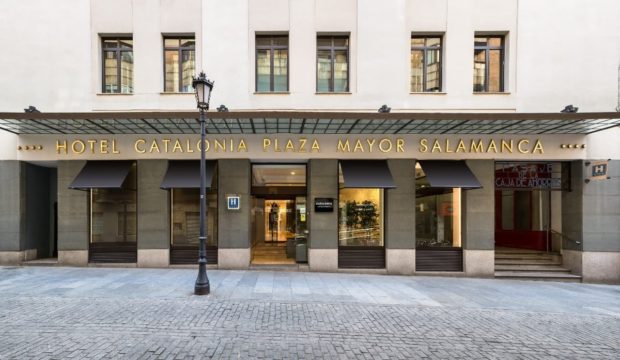 Salamanca is one of the most beautiful places in Spain, not just because of its stunning Old Town. This city has a lot to offer visitors and will leave you coming back again and again. If you love old buildings, sceneries, and streetside cafes, then Salamanca is your ideal destination.