Located on the south coast of the Dominican Republic, is the all-inclusive resort for the whole family: Catalonia Bayahibe. This resort is well known for its crystal-clear turquoise waters, its colonial architecture, the exuberance of its gardens, entertainment and the impressive gastronomic offer.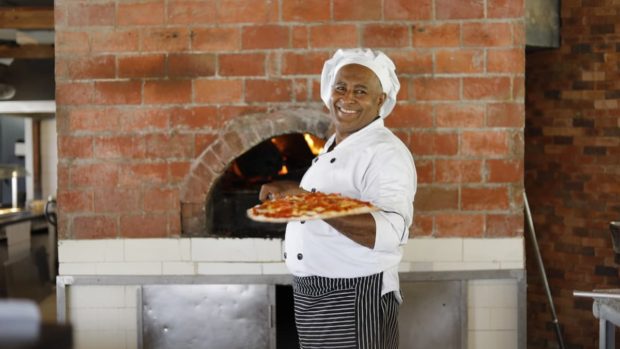 Among the wide variety of restaurants, the Sorrento pizzeria stands out. Sorrento promises a true culinary experience, surrounded by a tranquil setting and trendy design. It has a buffet-style lunch service and a la carte dinner service with no reservations required. The varied wood-fired oven pizzas are the highlight of the menu.
The creation of these exquisite pizzas is in charge of chef Fernando Rijo, recognized throughout the years for his delicious pizzas, made with intelligence, love and passion. These are distinguished by their perfect dough, sauce and rich ingredients, thus achieving an explosion of totally irresistible flavors and perfect balances, exceeding the expectations of seasoned travelers. Among the most popular pizzas are the Hawaiian pizza, the margarita and the blue cheese pizza. Guests can go with the classics or have a custom-made pizza with their favorite ingredients. In addition, it has a menu that includes exquisite hamburgers, salads and other options in the à la carte service, designed to satisfy the palate of diners.
The chef relates that he began his gastronomic journey in the kitchen at the age of 20, joining the Catalonia chain at the age of 23 as a cook at Catalonia Bavaro Beach, eventually fulfilling one of his greatest aspirations; that of being chef of Pizzeria Sorrento, located in the Catalonia Bayahibe resort. Chef Fernando Rijo extends a warm invitation to all guests and future travelers to enjoy his delicious creations
Are you looking for an unforgettable vacation and delight yourself with an authentic culinary journey in the heart of Bayahibe? Take a look at our hotel offer in the area and enjoy the impressive Caribbean beach, facilities, restaurants and a vacation experience designed for your comfort.