Cozumel is today the favorite destination of tourism in the Mexican Caribbean because most of its incredible beaches, in addition to being semi-virgin, remain all year free of sargassum.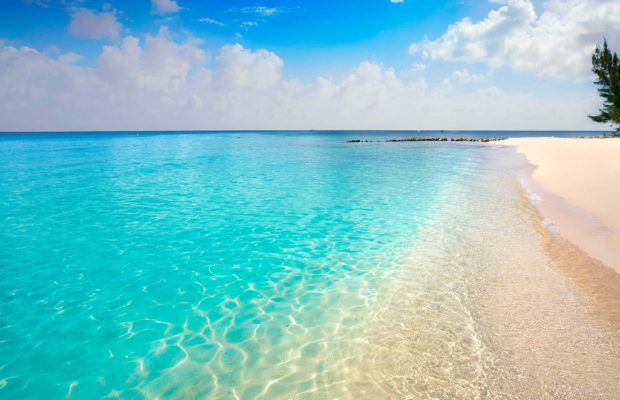 Where is Cozumel Located?
Cozumel is an island located in front of Playa del Carmen, very close to the charmly Catalonia Playa Maroma hotel. The most common is to arrive by Ferry.
The coast of Cozumel is surrounded by a great natural wealth and it is that paradise beach that at any time you visit it, you cannot be disappointed.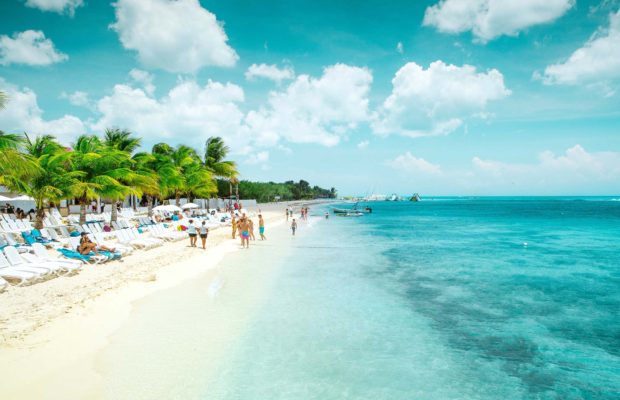 How to get around Cozumel
In Cozumel activities abound for tourists and various tour packages are offered, you can choose the one you like best. You can also find Cozumel hotels for every budget.
The boardwalk of Cozumel is probably the best place in Quintana Roo to enjoy a sunset beach, the atmosphere is very relaxed and familiar, without both hustle and bustle in super developed destinations, here you can feel the tranquility of a coastal town and Relax with the simple sound of the sea.
The other way to visit Cozumel, is aboard a Caribbean Cruise, you will see them arrive in the morning and depart when the sun goes down. Most visitors leave the Island after watching the sunset, so if your plan is to go only one day, take the precaution of arriving at least 10 minutes before the Ferry leaves to find a good place.
If you stay for the night, visit the Main Square of San Miguel, the dancing fountains offer their free show starting at 8:00 pm and it is a mandatory meeting point where the atmosphere is calm and safe.
One of the main activities on the island is to visit the reefs and there are two ways to do it, one is renting a car and touring the beaches in Cozumel near cruise port and then taking a boat that takes you. The other way is to hire a boat tour that leaves from the Port of San Miguel, lasts approximately 4 hours and takes you directly to the main reefs.
Playa Palancar
On Playa Palancar you can swim among goldfish and admire one of the best-preserved reefs in Quintana Roo. One of the most desired destinations to visit on the island is "Sky Reef" or "El Cielo", a large sandbar located approximately 800mts. from the coast of the island and is considered a sanctuary of starfish because it is common to find them concentrated here.
The island of Cozumel is one of the first places to receive the sunlight of Mexico, it is only surpassed by Isla Mujeres, located further north of Quintana Roo, the only place to see the sunrise is in "Mezcalitos beach".
Another very important point to visit is the Archaeological Zone of San Gervasio with a quite interesting history, here the great Mayan lords pilgrimage to worship the goddess IXCHEL.
Punta Sur Eco beach
Punta Sur Eco beach is a state reserve whose extension exceeds one thousand hectares in which lagoon systems that constitute a mosaic of great flora and fauna diversity and wealth pre-dominate. This is the ideal place for nature lovers. Stand out the wide beaches with fine white sand and turquoise waters which house numerous reef formations laying out sea fan gardens extended for a long length. Entering "Punta Sur" means transporting to a natural paradise in which you will find a great variety of birds and animals that you can only be able to appreciate there. It counts with a tower for crocodile´s observation in their natural habitat, making this park a spectacular place. If you're a wildlife lover, a trip to the Faro Celerain Eco Park is a must.
Also known as Punta Sur Eco Beach Park, this ecological park sprawls across the southern tip of Cozumel. Its 2,500 acres are home to exotic birds, crocodiles and sea turtles. But don't let the animals distract you from everything else the park has to offer.
The Punta Sur Eco beach is another destination that you have to visit, here you can enjoy the crystal clear water of its Costa Blanca as well as snorkeling and take a tour to the Colombia lagoon where there is a scenic lighthouse where you can find a museum with history of Cozumel. Another important site is the Chankanaab park that has it all; zip lines, spectacular beaches, a lagoon and also a special cove for children.
Playa Mía
Playa Mia Cozumel has lots of really fun stuff going for it, you have free included water sports (like kayaks, aqua bikes and so forth), you can rent power toys also like jet skis or parasailing. Along with that you can get an all inclusive drink package. Playa Mia also has two pools, two water slides and lots of other fun things to do including of course relaxing on the beach 🙂 So if you want to find out more, go a head and sit back with your favourite cocktail and we'll show you around Playa Mia and if its something that you should do on your next cruise to Cozumel.
Mr. Sanchos beach
Mr. Sancho's Beach Club is located on the south side of the island, only 15 minutes drive from the main cruise piers and 20 minutes drive from downtown Cozumel. You will find beach activities such as kayaks, snorkel, water sports, tables with umbrellas, romantic cabanas, fresh water showers, lockers, hammocks, two pools, each one with a swim up bar, beach palapas.
Passion Island
The island of passion is an eco-tourism concept, it has 1km of extension where you find absolute privacy where weddings and all kinds of events can be held. It is a paradise in the middle of the ocean, it is north of Cozumel just 2km away, you can arrive from the Center of Cozumel in a boat or in the "aqua twister" that takes 15 minutes and is a fun experience. Here you can also find all kinds of water activities to enjoy your day to the fullest.
Here you have a shortlist of some other quiet beaches in Cozumel with white sand that you can visit:
Dzul Ha
Corona beach
Playa Norte Barracuda
This are the best beaches in Cozumel to swim, this is undoubtedly a true paradise, you can´t miss in your list of trips to visit.