Snorkeling is one of the most popular activities to do for travelers in the Caribbean due the calm seas, beautiful clear water and excellent weather around the year.
If you are ready to jump into the clear turquoise waters and enjoy a great time snorkeling, check out our collection of the best places to snorkel in the Caribbean.
Punta Cana
It is a paradise! With more than 50 kilometers of incredible white sand and turquoise water beaches, surrounded by coconut palm trees. Famous for amazing all-inclusive resorts, golf courses and night life.
You can visit Punta Cana any time of the year and enjoy an amazing time. Here are some two places you shouldn't miss if you love to practice Snorkeling.
Bávaro and Punta Cana Beach are the most popular and recognized beaches of the Dominican Republic. Classified within the most beautiful ones in the world. To live an unforgettable experience don't miss snorkeling on the longest reef in the country. If you want to enjoy a full snorkeling experience in Bavaro beach, the Catalonia Bavaro hotel offers all the best services of a 5 star resort.
Catalina Island
Located just 2 kilometers from La Romana, more specifically from Bayahibe Beach, is a beautiful island with clear water beaches, ideal to practice snorkeling and scuba diving. Named the best zone to practice snorkeling in the area, is a paradise full of marine life.
The best way to visit the Catalina Island is to buy a Snorkeling Trip Package. You can find such excursions starting at US$ 60 per person with transportation and lunch included.
Sosúa
Sosúa, in the province of Puerto Plata, it's known for the immense beach that bears the same name, protected by a large coral reef.
To enjoy this amazing northern paradise, named by locals the Atlantic's Bride, you can buy an excursion starting at US$ 59 with sun chairs, snorkeling guide and equipment included.
Saona Island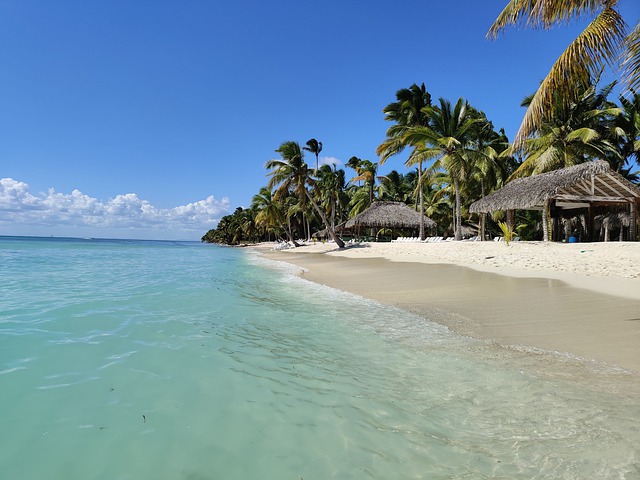 Also located off the coast of Bayahibe, this "picture perfect" island stands out for its calm crystalline waters, which makes it an ideal destination for snorkeling and diving due to its high visibility underwater.
The Island stands out for its white sand, shallow and warm turquoise waters; Making it, in recent years, one of the preferred areas by tourists and locals alike. To visit the island, you will find a wide range of excursions starting at US$ 60 per person. We always recommend reading in detail what's included in each Tour and to ask about their safety measures so that your trip to Saona Island, and any other area, becomes a safe and memorable experience.
Bayahibe
Bayahibe Beach is just 20 minutes from La Romana Airport, and has about 600 meters of white sand and beautiful turquoise waters wrapped by giant coconut trees. This beach stands out for not having waves and crystal-clear water, being ideal for snorkeling.
To access the coral reef area, you can rent a boat in the Bayahibe marina or book a tour to snorkel in the area. Starting at US$ 45, you can have the equipment and the assistance of a snorkeling instructor included.
And what about the Riviera Maya?
If you ready to enjoy your vacation in the Riviera Maya, don't forget the essentials, biodegradable sunscreen, bathing suit, camera and your snorkeling equipment YES! We know that you probably come to rest and enjoy the delights of the buffet, but if you want a quiet activity and that does not take you all day, snorkeling in the Riviera Maya will be ideal.
Puerto Morelos – tour
Starting from north to south, within the marine waters of this beautiful town you will find one of the largest coral reef barriers in the world. This is one the best places to snorkeling in Mexico, and here you will see all kinds of marine fauna and you will be enchanted by the colors you will find here. The depth in some parts is not so much, just stick your head so you can be fascinated.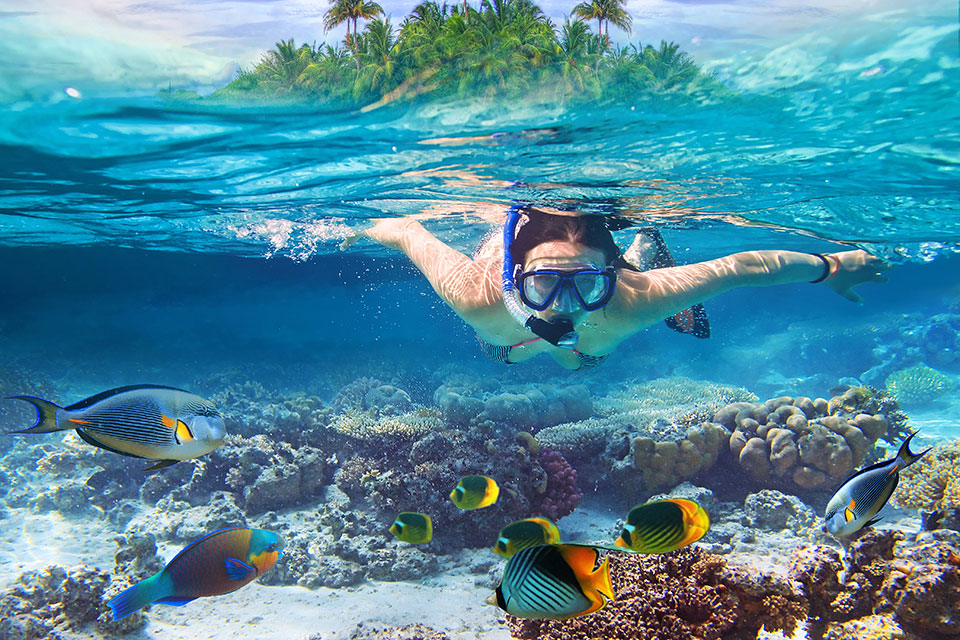 Akumal – tour
30 minutes from Playa del Carmen you will find this place where the gentle current and the low depth will allow you to swim very close to sea turtles. You should know that it is a protected area, that is, there is a preservation program for the protagonist of this experience so on Mondays it is not possible to swim with them.
When you swim next to them, take care of your distance, it is not possible to touch them and not follow them because the only thing you will achieve is to scare them away and they will never return. Enjoy the tour and be surprised by this beautiful creature.