The Netherlands is characterized and known for having excellent road networks interconnecting cities and towns Apart from the canals and gabled houses that Amsterdam is famous for, there are countless towns near Amsterdam that you can visit. These neighboring towns are not only beautiful but also charming.
If you plan to visit towns near Amsterdam, don't forget to read this list we've created for you.
Towns to visit near Amsterdam
Naarden
If coming from Amsterdam, it will take about 22 minutes to reach the town via A1. You can also get to this town from Amsterdam by bus or train.
The town is a fascinating place for the history it holds in its different places and monuments, as well as for its excellent landscapes; therefore, you cannot lack places to visit. While in the town, you can visit Speelpark Oud Valkeveen, an amusement and theme park, City Hall, a historical government building, Weegschaal Museum, Comenius Mausoleum and Museum, among other attraction sites.
Broek in Waterland
This town is accessible via N247 road. It is 12.3 km from Amsterdam, it is approximately a 17-minute drive. There are many ways to get there if you don't want to drive, some options are public transport or a taxi.
As a visitor, you will love the charm of this town. Due to its small size, you can get around the town on a bike or on foot if you love walking. Some of this town's must-see attractions are Sint-Nicolaaskerk, an old church built in 1628, and Het Beroemde Huis. Other fun ways to see the town are through boat tours and canoeing.
Zaandam
This historic town is endowed with windmills, clogs, and wooden houses. A visit to this town will give you a glimpse of how life in the Netherlands was in the 18th and 19th centuries. The town is 18.7 km from Amsterdam, an 18-minute drive via A10. When using a train, the journey will last about 7 minutes.
Some of the top attractions in this town are Zaanse Schans, Molen De Kat, Zaans Museum, De Zoeker Molen and Catharina Hoeve Cheese Farm.
You can also book a ferry ride and enjoy a boat ride while watching the town being explored from a different perspective.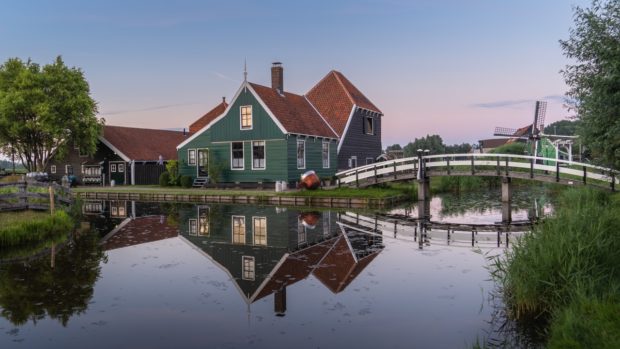 Monnickendam
It is a serene and quiet fishing town located on the banks of Lake Marken (Markermeer). It is 16 km Northwest of the Netherlands capital, Amsterdam, a 20-minute drive via N247. This town has 74 buildings with a national heritage site status.
If you love water sports, this is the town to visit. You can rent a boat or sailboat and enjoy a boat trip around this marvelous water city.
Some of the places to visit while in this town are Museum de Speeltoren, the Speel Tower which houses a museum, the Carillon Tower, Grote Kerk (Saint Nicolas Church) and Bierderij Waterland if you would like to enjoy a bottle of beer while overlooking the harbor.
Haarlem
It is 27 km from Amsterdam. Driving time from Amsterdam to this town is 27 minutes via A9, 31 minutes via N200 or 33 minutes via A5. Visiting this town from Amsterdam is a real road trip; you will find it hard to resist stopping along the way to enjoy the beautiful sceneries the Netherlands has to offer. You can also get to haarlem by public transport, the train is a great option.
Some of the places you can visit while in this town are the Grote Markt, which has numerous monuments such as the St. Bravo Church, Flesh Hall, Hoofdwacht, Verwey Hall, City Hall and Fish Hall. Another famous spot is the Molen Adriaan, a traditional Dutch windmill.
Where to stay in Amsterdam
If you want to see these charming and wonderful towns, we recommend staying at the Catalonia Vondel Amsterdam Hotel, a four-star boutique hotel located a few meters from Leidseplein Square and the Vondelpark.
Very close to the square called Museumplein, where three important museums are located: the National Museum of Holland -Rijksmuseum-, the Van Gogh Museum and the Stedelijk Museum.
If you are a lover of minimalism, you'll love its rooms, as they are very comfortable, bright and equipped with coffee and tea service and a mini-bar.