Lounge meaning
So, what is a lounge exactly? Well, for starters, the word "lounge" can be used as a verb or a noun. As a verb, to lounge means to pass time idly, or, move or act in a relaxed or lazy manner. As a noun, a specific lounge refers to a public waiting room that can usually be found in public spaces like hotels, bars, restaurants, clubs, etc. sometimes, people might refer to the living room or lobby as a lounge, it all depends.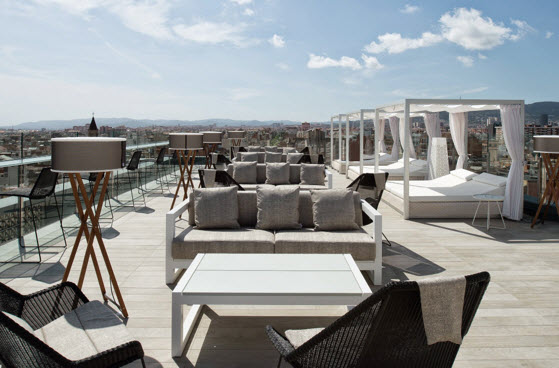 The history and the setting
Lounges have been around for quite some time. In fact, people have been lounging around in rooms specifically meant for people to relax and just chill out in since ancient times! More recently, however, big cities like Madrid,  Barcelona, Paris, and London have incorporated specific lounge areas into their bars, hotels, and restaurants in an effort to invite a more subdued crowd that might want to relax and have just a small drink or a snack. This is what we call the lounge area. Lounges tend to attract the after-work crowd, seeking a calmer environment where dancing isn't a necessity.
The style of any lounge can vary, but the typical lounge style is chic, luxurious, and comfortable! Lounge music tends to be very laid back, as it often has a slow tempo with relaxing melodies and harmonies. In fact, one might argue that the specific genre of music called "lounge" or "chill out" came from the Balearic Islands of Spain, taking prominence in Ibiza in the 1980s.
Differences between a bar and a lounge
The main difference between a bar and a lounge is appearance. The lounge room décor tends to be very lush and smooth. While the bar or pub environment tends to be crowded, messier, with little attention to décor. A pub or a bar might just serve alcohol to its patrons, and provide loud live music – a rowdy environment indeed! A lounge, on the other hand, may or may not serve food. The lounge may have an extensive drink menu that sets it apart from the often-sleazy pub or bar atmosphere. In fact, the cocktail is often served up in a lounge environment. Sure, many places that serve cocktails are often called "cocktail bars," but step foot in almost any cocktail bar and you will immediately feel as if you are not in a typical bar!
What's great about cocktail bars or lounge bars is that the lounge bar is often situated on a patio or terrace. This feature is especially common all across Spain, as the weather is temperate and invites outdoor seating year-round! Now, what about the lounge restaurant? Good question! Again, if we consider the idea of a sleazy dive bar or greasy spoon restaurant on the one hand, then in the other hand we can imagine a classy cocktail lounge or 5-star restaurant! Sure, not all 5-star restaurants are lounges, per se. However, a lot of elegant restaurants will have specific lounge areas, usually located on a different level than the restaurant itself.
These lounge areas tend to have relaxed seating that incorporates sofas and arm chairs. What's more is that a lounge in a restaurant might have particular menus that change daily. So, to conclude, the lounge environment is just that – it's chill! You don't need to unwind with copious amounts of beer as is common in a bar or pub, there's no pressure to dance, and you can choose to relax on more comfortable seating.