If you're looking for a stunning sight to take in a while in Barcelona, Sagrada Familia is the place to go. With its 18th-century architecture and beautiful grounds, it's no wonder this religious complex has become one of the most popular tourist destinations in the city. But what you might not know is that there are a lot of secrets to Sagrada Familia that you may not have heard about. Here are some amazing facts about the famous basilica that will make you want to stay awhile.
10 amazing facts about Sagrada Familia in Barcelona
It's been under construction for over a century
It may come as a surprise but it is among some of the oldest buildings in the world to be still under construction. The construction of Sagrada Familia started in 1882. The architect Gaudi had designed such a magnificent structure but it was evident that he would die before it was finished. Currently, builders are expecting to complete construction in 2026.
Gaudi was buried there
Antoni Gaudi was the mastermind behind this project and just a few days after he was hit by a tram, he passed away. They buried his body on the underground level in a tomb and visitors from any part of the world can see it whenever they visit. Gaudí's tomb is held in the chapel dedicated to the El Carmen Virgin.
It used to be the site of a school
In the early construction years of the structure, Gaudi built a school called the Sagrada Familia Schools building. The school was for the construction workers' children. Designed in 1909, currently, the school is an exhibition of the Sagrada Familia.
It's a man-made masterpiece that is inspired by nature
Antoni Gaudi drew his inspiration from nature when constructing the structure. It is quite contradictory because the majority of cathedral buildings have straight designs. He skilfully designed the structure from what he saw in nature.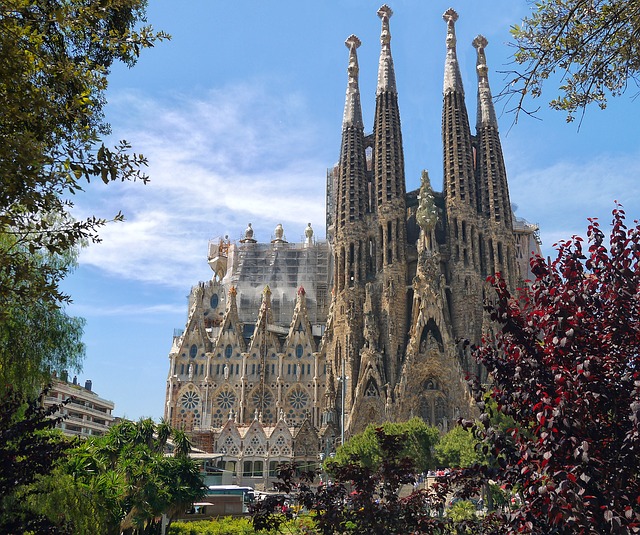 Builders of the Sagrada Familia are immortalized in stone
To honor all those who worked tirelessly in building the Sagrada Familia, they had to embed the faces of the builders within the stone of the building.
It's the tallest religious building in Europe
One outstanding feature of this structure is its height. He designed the central tower to be approximately 170 meters. He believed that nothing made by man should be taller than God's creation, for this reason, it is one meter shorter than the mountain of Barcelona, Montjuïc.
La Sagrada Familia is an UNESCO World heritage site
La Sagrada Familia is a building that Gaudí masterfully designed and, despite not being finished, UNESCO made it a World Heritage Site in 1984 because of its unique architecture and how Gaudí created something so artistic and innovative.
The symbolism
The interior pillars resemble trees and, when looking up, the shapes of the pillars change as do those of the trees. Gaudí designed images of a turtle and tortoise on these pillars to represent the water and earth.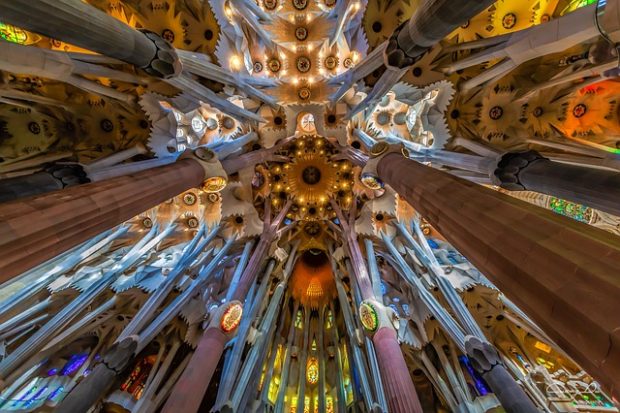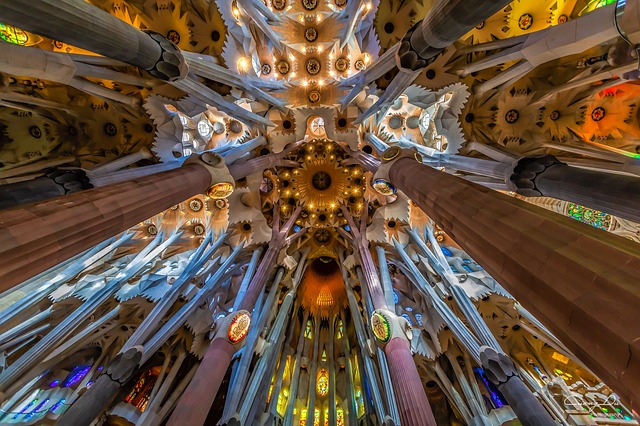 It's no longer a cathedral
It is interesting to know when the building started. It was meant to be a simple Roman Catholic Church. Later on, things changed and it became a cathedral. However, when Pope Benedict XVI declared it as a Basilica, it stopped being a cathedral.
There are elevators inside
For such a tall building, having elevators inside is such a good thing. However, it may surprise you because of how thin the towers are! Nonetheless, visitors can see the highest and lowest parts of the structure with the elevators.
If you are  a lover of Sagrada Familia building, do not miss the post we wrote about the best viewpoints in Barcelona in which you can get an exclusive view of La Sagrada Familia.
Where to stay in Barcelona
If you want to enjoy all these curiosities about the Sagrada Familia, we recommend staying at the Catalonia Sagrada Familia hotel, located a few meters from the center and 15 minutes walk from the basilica.
It has free wifi, a swimming pool to cool off after visiting the city and a free fitness room for guests.