Famous for its amazing Basque gastronomy, San Sebastian is well-known throughout the world for its pintxos and Michelin starred restaurants. Yet there is so much more to see in this seaside Spanish town. Here is our guide to what to see in San Sebastian when you want to visit the town in three days.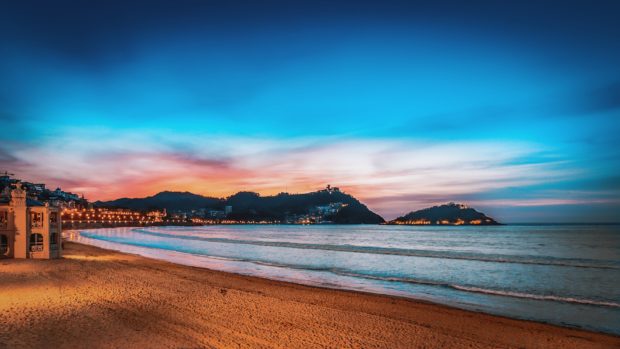 Day 1
Pintxos tour
When in Rome and all that. Holiday like a local and hit the tapas bars. Whether you create your own version of a pintxos tour or you seek out a local pintxos company to show you the best haunts, make sure you include at least one pintxos bar in your stay. San Sebastian's old town is the best place to start with these delightful Basque tapas treats, namely on Calle 31 de Agosto. Get there just before 1 p.m so you beat the locals to it!
Playa de la Concha: Hit the beach
If you are wondering what what is san sebastian known for then you've come to the right place. As well as the pintxos, it is famous for its fabulous sandy beach within a city setting. Playa de la Concha or "Concha Beach" in English, is the ideal spot to take a walk to burn off some of the pintxos calories or to spend some time relaxing at the end of your trip.
Monte Urgull and Monte Igueldo: Two mountains in one town
Monte Urgull and Monte Igueldo are yet another famous sight in San Sebastian. Towering over the town, Monte Urgull is the place to go for stunning city views and a visit to a small local museum.
Experience San Sebastian's gastronomy
Head to one of San Sebastian's Michelin star restaurants for a dinner experience you won't forget. From Akelarre to Martin Berasategui, your taste buds will thank you for a long time to come.
Day 2
San Sebastian museums: Focus on culture
Spend some time at the Museo de San Telmo for an insight into Basque culture and society. Benefitting from a makeover between 2007 and 2011, the museum boasts a 16th-century cloister arcade and temporary exhibitions which change regularly.
Head out of town
Some of the most famous of San Sebastian attractions actually lie within easy driving or public transport links. San Sebastian is just 100 k.m from the town of Bilbao and within easy driving distance of one of Spain's most famous wine regions, La Rioja. If you have more than three days to visit San Sebastián, spending a day visiting the local wineries is an absolute must.
But if you prefer to spend all your time in San Sebastian, the tapas bars in town will probably serve Rioja wine as well so you can test it.
Day 3
Wellness time
Whether you want to head to the spa or simply enjoy the views over Playa de la Concha, the Catalonia Donosti Hotel is located in the best area to stay in San Sebastian, just 2 minutes on foot from the beautiful Cathedral of the town. With an English-inspired décor and its own spa, the hotel offers a luxury experience when choosing which of the hotels in San Sebastian is for you. The Catalonia Donosti Hotel has an enviable position in the centre of the town, on top of the San Bartolomé hill and is minutes away from the Palacio de Miramar. A stay here is steeped in history given that the hotel is located in a beautifully preserved 17th and 18th century convent building.
Getting around San Sebastian
If you want something a little closer to nature for your last day before you head to San Sebastian airport, located just 21 km from the town centre, then the beach is the place to go. The best time to visit San Sebastian is between May and July, but it is a fantastic destination all year round. Getting around San Sebastian is easy on foot or by car, but if you are in the city centre the best bet is to walk to make the most of your visit. By walking you'll see the town through local eyes and happen upon tiny, unique, tapas bars that you would otherwise miss if you were travelling by car.