Nothing beats a sunset view overlooking the Mediterranean Sea. We give our readers some of the most spectacular sunsets in Ibiza you won't want to miss.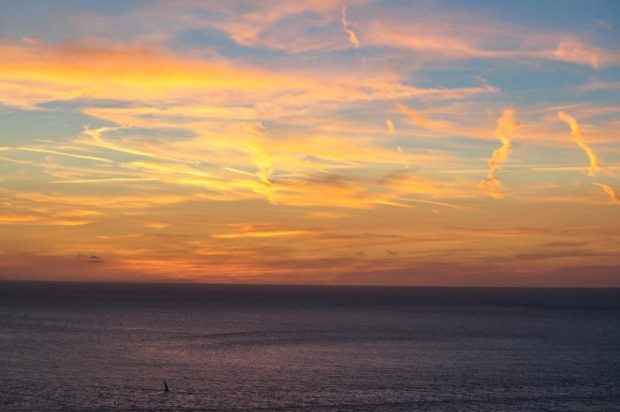 From the cool breeze, outstanding beaches, scenic view and the Ibiza hospitality, the whole package makes the whole experience breathtaking.
If you are new on the balearic islands or want a second opinion on where to view the sunset, the following are some restaurants and cafés you can check out.
Cala d'Hort
It is a small beach, about 150 metres long, with the perfect summer weather. Visitors have a fantastic view of the famed Es Vedrà Island, which offers a perfect view over sunset.
You can access the beach via San Jose or Cala Vadella, a 10-minute drive away.
Es Vedrà
It is a small rocky island, about 400 metres high, located in South-West Ibiza. Stuck in the middle of the sea, this island gives a perfect sunset view as it disappears on the sea horizon.
Visitors can access it via the dHort creek coastline, which is 2.5 kilometres away.
Torre de Es Savinar
This ancient watchtower in South West Ibiza was built in the 18th century. It is 200 metres above sea level, which offers a perfect sunset view of the Mediterranean coastline. Visitors can access it from Sant Josep, approximately 8 kilometres away along Es Cubells road.
Las Puertas del Cielo
Accessible via Santa Ines, about 1.5 km into the beach village, the beach is a prime location for sunset seeing. It is in northwest Ibiza, overlooking a clear sea, which is a perfect sunset destination for twilight revellers.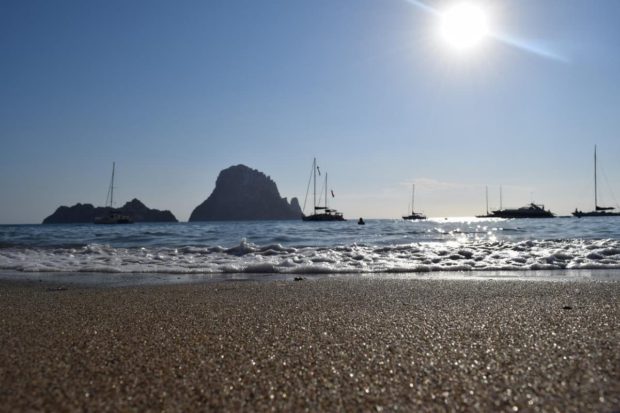 Cala Comte
Located about 8 kilometres away from Sant Josep de Sa Talaia, this beachfront is among the most visited in Ibiza.
It is an 800 metres coastline accessible via car, ferry or bus from San Antonio. Sunsets are breathtaking, considering that the location overlooks the West Ibiza beach line.
Cala Benirrás
It is 160 metres long beach in Northern Ibiza, widely known for twilight experiences. You can access it by car 10 minutes from San Miguel, although you have to alight and walk to the beach.
The pine forests in the background offer a great backdrop for the sunset.
Cap Des Falcó
The "Cape of Falcons" is a hilly terrain stack between Ses Salines and Es Codolar beach in Southern Ibiza. Standing on the hill gives you the front row seat to Ibiza's sunset.
You can access it via the airport, about 5 kilometres away in the north.
Where to Stay in Ibiza
There are numerous places to stay in Ibiza. If you intend to have a spectacular sunset in Ibiza as well as enjoy Ibiza and Spanish hospitality, there are select hotels that fit the purpose.
Catalonia Royal Ses Estaques Adults Only
It is a 39-rooms facility located in Eastern Ibiza, each with a balcony facing the sea. However, it only accommodates visitors aged over 16 years.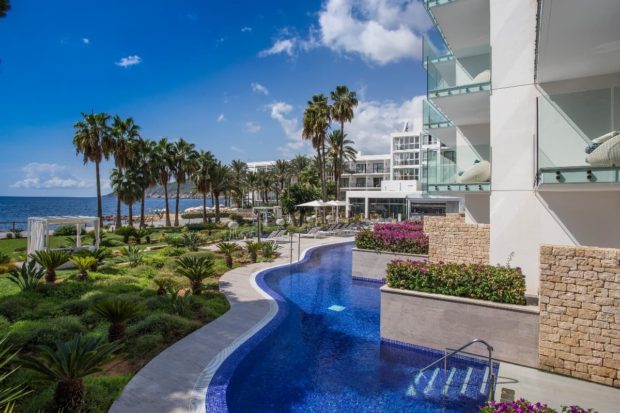 The leafy pine forests surrounding the Catalonia Royal Ses Estaques Adults Only resort provide a great backdrop for the Mediterranean view. On clear days, guests can make out on the Formentera Island.
Catalonia Ses Estaques Adults Only
Catalonia Ses Estaques Adults Only is considered the heart of Ibiza, it is an adults-only hotel meant to enjoy Ibiza hospitality.
The hotel is 500 metres from Santa Eularia des Riu town on the beach in North East Ibiza. Visitors enjoy Spanish hospitality, not forgetting the full sea view along the Mediterranean.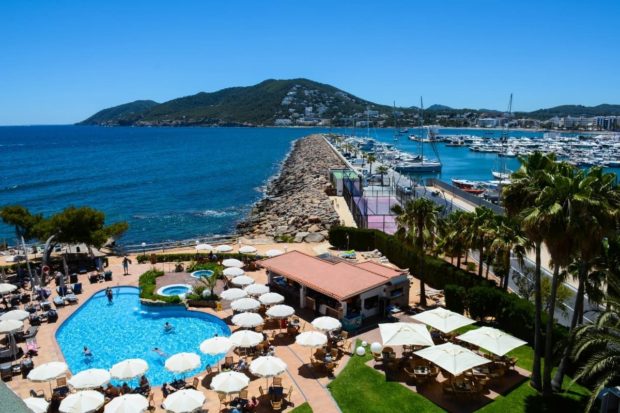 The hotel has several activities, both during the day and at night. Guests can go for a swim as they grab a mouth-watering cocktail from the Lounge Bar. Live music, comedy shows and cabarets are also part of the entertainment package. However, children under 16 years aren't allowed in the hotel.
If you are new on the island or want a second opinion on where to view the sunset, Ibiza has various options. Lovers out on adventure can also have some private moments in adults-only hotels. Visit Ibiza and enjoy the spanish hospitality.