Everyone knows Ibiza, capital of the Balearic Islands, is a great place to go if you want to have a fun-filled trip with friends, but did you know it's also the perfect destination for a romantic trip? You'll find secluded areas of natural beauty, hidden beach coves, a charming old town, and although the island is known for its nightlife, you'll easily find more peaceful options for a romantic dinner for two, Here's the ultimate guide to where to go in Ibiza for couples looking for a special getaway together.
Located 150 km off the eastern coast of Spain, it's the third largest of the archipelago and despite its reputation as a clubbing destination, you might be surprised to discover that much of the island has been designated a UNESCO World Heritage Site. The old town of Ibiza City, Dalt Vila, is one such spot and you won't want to miss this stunning location with its Renaissance walls and historic buildings.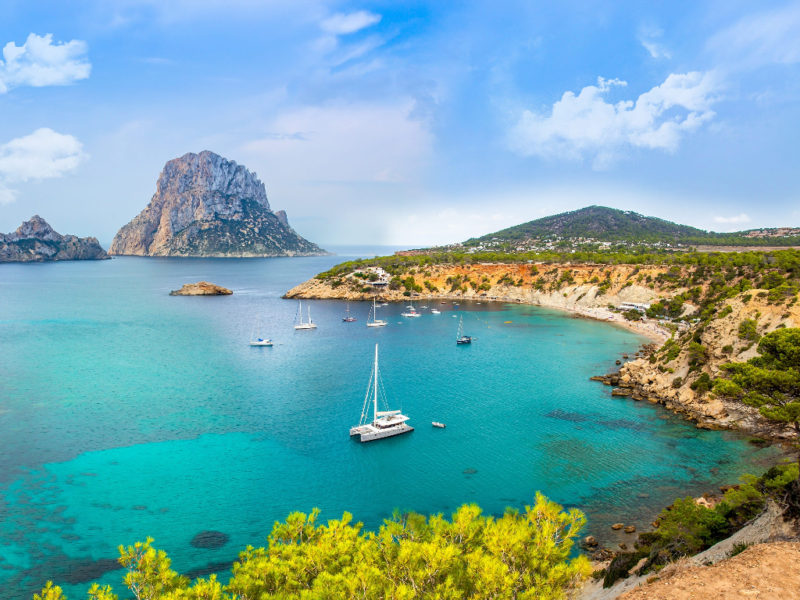 When you've had your fill of history and checked out some of the little cafés and shops, it will be time to head to the island's real gems, the little coves, known as "calas".
Cala Bassa
A popular beach near San Antonio, and with its clear blue water and golden sand you'll soon see why. Accessible by car, bus, and ferry, it is a fun site for water sports, and the Beach Club offers different cuisines to suit your taste.
Es Caná
An easy bus or ferry ride from Santa Eulària des Riu and is another great beach for water activities and relaxing. There's a good choice of bars and restaurants lining the beach, all with excellent views.
Cala Vadella
A picturesque bay a short drive from the towns and is a peaceful place to while away an afternoon. The pine-covered hills have trails to explore, and you'll enjoy the sight of the boats gently bobbing on still water as you watch the sun set.
Other beaches to check out are the Cala Llonga beach , perfect for sunbathing and with lots of great restaurants and bars, and Cala Tarida, where as well as the long main beach there are some small hidden coves just north of the beach, so you can have a bit more privacy and peace.
San Antonio bay
There's plenty to do in San Antonio bay for couples, and you can have fun wandering the various bars and eateries of the sunset strip, some of the most popular in the Ibiza area. While you're there, don't forget to head to the famous Café del Mar. Something of an Ibiza rite of passage, this is an unmissable place for its magical combination of sunsets, music, and fun. It's the original spot to enjoy the chill-out electronic vibe, but there are also lots of newer bars to discover, too, so try a few and find your own romantic favourite.
Where to stay in Ibiza for couples
On romantic holidays it's essential that you pick the right hotel to really enjoy the special time together without being disturbed. Here are two comfortable and stylish hotels that are only for adults so you can make the most of your romantic holiday to Ibiza.
Catalonia Ses Estaques, just near the town of Santa Eulària des Riu, is located on a rocky peninsula by the sea. With views of the attractive marina and close to the town centre, this is an ideal location to enjoy some relaxing time together in the pool and Lounge Bar, where's there's an evening entertainment programme.
Catalonia Royal Ses Savines also has stunning views of the sea and is a peaceful and elegant place to stay. Right in the centre of Santa Eulària des Riu, it has two pools, spacious rooms, a cocktail bar, and a chillout area with hammocks and Balinese beds.