Riviera Maya, the paradisiacal destination that we all want to visit once in a lifetime to swim in its Caribbean beaches and know those sacred cenotes of which we have heard so much, but where to stay? There are three popular destinations that you should consider and here we will briefly tell you what you will find in each place so you can decide well.
Cancun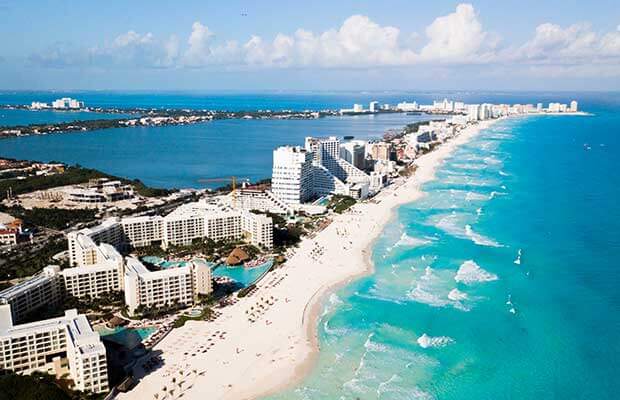 The most popular option between this 3, it is a city that is very close to the International Airport so probably in half an hour you will be checking in with a margarita in your hand. Many guests consider it as the ideal place to party because for several years it has been known as the home of spring break, although there are also very familiar or very exclusive and private accommodations. In the hotel zone of this city you can find luxury shopping areas, clubs and restaurants with different gastronomic specialties. Among the nearest tourist attractions you will find Isla Mujeres, Isla Contoy and the marvelous Holbox.
For the first one you will have to purchase tickets for the ferry that is in the same hotel zone and cross to the island; for the second one you can get to know it through some tour since the access to this island is limited; for the last one, we recommend you to rent a car because you will have to take the road to get to the port of Chiquilá and then, by ferry, to cross to this beautiful place.
Playa del Carmen

Right in the middle of the other two options. What makes it an ideal destination? Well, its famous fifth avenue is full of shops of all kinds, restaurants with different specialties and accommodation that you can find at an affordable price. Also its location, honestly, is ideal, within the first 20 minutes on the road and you will be passing some attractions of Experiencias Xcaret and cenotes very nice and famous, you have two options, rent a car and take a tour per day or take the transportation public that you find two blocks from the fifth avenue and that is very economical.
Don´t forget to enjoy the beautiful beach in Playa del Carmen and enjoy a very confortable hotels and motel in the city or around like  Catalonia Riviera Maya or Catalonia Playa Maroma, great places to stay in Playa del Carmen

Tulum
The ecochic destination of Mexico. Today, Tulum is the perfect spot for vacations. Have you seen those photos on Instagram of tourists riding a bike and having an ice cream? Well, that's in this place. The trip from Cancún from Tulum it takes 2 hours by car.
You should know that whoever stays in this area should consider that the expense is not minimal, their exclusive restaurants mixed in the jungle and their simple hotels with touches of luxury on the shore of the beach are quoted daily.
Since the hotel zone is on a very narrow road, renting a car is not convenient unless you want to travel on your own and visit Cobá (1hr approx), Chichen Itzá (2hr approx) or other towns, otherwise, rent a bicycle, many tourists prefer this since the cost is minimal and you can visit the closest points to the town as the archaeological zone of Tulum located at the entrance of the town, some cenote on the road to Cobá or simply know the hotels that are next to yours. Also, remember that in front of Tulum is the Great Mayan Reef where you can snorkel, quote the tour and you will see what wonder of fish you will find there.
This information is very basic, we really recommend that you take your time to investigate the best option, either by proximity to the international airport of Cancun, your budget or the attractions that you are going to visit, help yourself with the tools offered by each platform, the websites to book the accommodation show you a map already so you can locate what will be around you, do not hesitate to contact your accommodation to ask for more information you may need. Remember that we are in the 21st century and access to the internet is in the palm of our hands.