The Riviera Maya is full of beautiful beaches and a rich culture of one of the largest pre-Hispanic civilizations.
Lovers of great culture are interested in visiting many of these Mayan ruins located in the Riviera Maya, that is why Catalonia Hotels & Resorts invites you to visit them and learn more about this incredible culture.
Mayan Ruins of Tulum
The ruins of Tulum are considered by many to be one of the most amazing Mayan ruins in the Riviera Maya. They are located on a 15-meter cliff, which gives it a privileged location and an excellent conservation. Tulum is surrounded by a wall on three sides, hence its name that translated from Maya means "wall", one of the few ancestral cities with these characteristics.
The Mayan ruins of Tulum are located just 36 km from Catalonia Royal Tulum and 40 km from Catalonia Riviera Maya, so we suggest you take advantage of your stay at our hotels to visit them and marvel upon its incredible views and beautiful beach. You can also get to visit the city of Tulum, you will not need more than one day to do it. The incredible views of the Caribbean, the amount of information shared on Mayan history upon entering the site and the beautiful beach makes a visit to Tulum something necessary and an unforgettable experience.
Archaeological Zone of Playa del Carmen
This archaeological zone is located within the city of Playa del Carmen. In the pre-Hispanic era, it was a small fishing village called Xaman Ha which means "Northern water". Xaman Ha was one of the first settlements seen by the Spanish conquistadors in the early 16th century. It was located strategically in front of the island of Cozumel and it is believed that the Mayas used it as a shipping dock.
These impressive Mayan ruins were an extensive settlement of masonry constructions and platforms for wooden houses and palm trees, whose inhabitants were mainly engaged in fishing and agricultural activities. These Mayan ruins are within the Playacar complex, one must take into account that the Ruins are not officially open to the public and in order to visit them a permit must be requested at the offices of INAH (National Institute of Anthropology and History) with at least five days of anticipation. These are the perfect Mayan ruins to visit if you stay in any of our hotels, located only 24 km from Catalonia Playa Maroma and Catalonia Riviera Maya and 26 km from Catalonia Royal Tulum.
Photograph by Bill McChesney Creative Commons.
Xel Há Archaeological Zone
Xel Há was one of the main commercial ports of the postclassic era. The name of this town corresponds to a Mayan word composed by xel "piece or entrance" and ha "water", in other words, "water entrance", a reference to its geographical location. The Xel Há cove is one of the most important of Quintana Roo coast since pre-Hispanic times, due to its natural protection with a beautiful scenery and abundant wildlife. It has an incredible array of Mayan ruins that is located in front of the park with the same name.
As part of the route that can be taken today, you can see magnificent examples of murals, in particular, the so-called "Building of the Birds", elaborated between the years 200 and 600 D.C.
Xel Há is only 20 km away from our resort Catalonia Royal Tulum and we recommend you to consider these Mayan ruins one more destination for your stay in the Riviera Maya.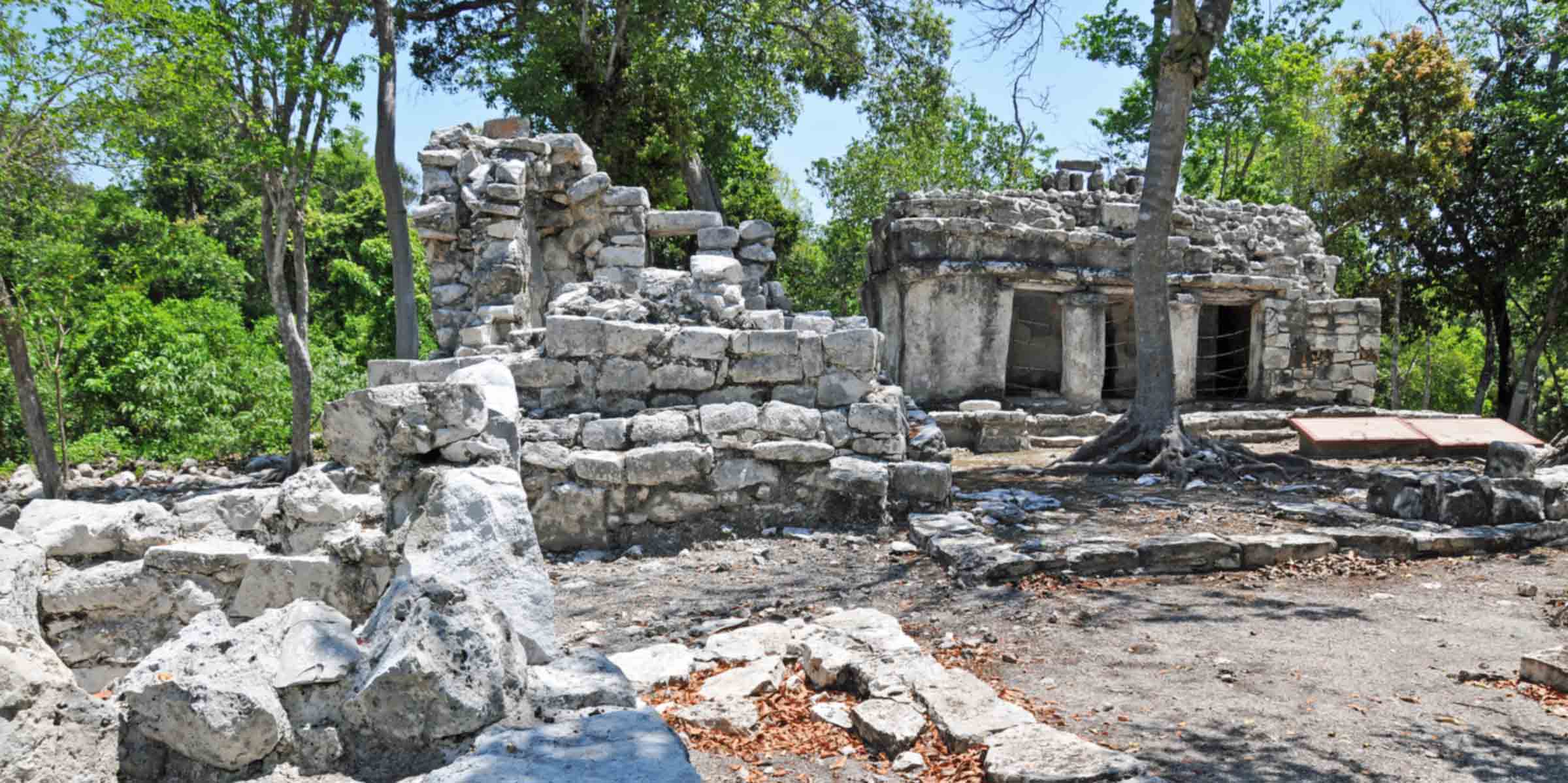 Photograph by Dennis Jarvis Creative Commons.
Xcaret Archaeological Zone
Before the colonial era, the city of Xcaret was known under the name P'olé, derived from the word p'ol, which refers to merchandise, treatment or contract with merchants. P'olé was an important commercial port and place of departure and arrival of pilgrimages towards Cozumel. Like Xaman Ha these ruins, located less than 9 kilometers from Playa del Carmen, enjoyed a privileged location due to its position with respect to Cozumel.
There is evidence of human settlements in the first three centuries of our era, but it only comes down to ceramic remains and some low platforms. To access the archaeological zone it is necessary to go to the INAH office located in the parking lot of the eco-park of the same name. These tours are guided and do not include any of the park services.
The Mayan ruins of Xcaret are the perfect destination if you stay in any of our hotels as it is located only 20 km from Catalonia Royal Tulum, 17 km from Catalonia Riviera Maya and 28 km from Catalonia Playa Maroma, making your stay in our Hotels, a much more unforgettable experience.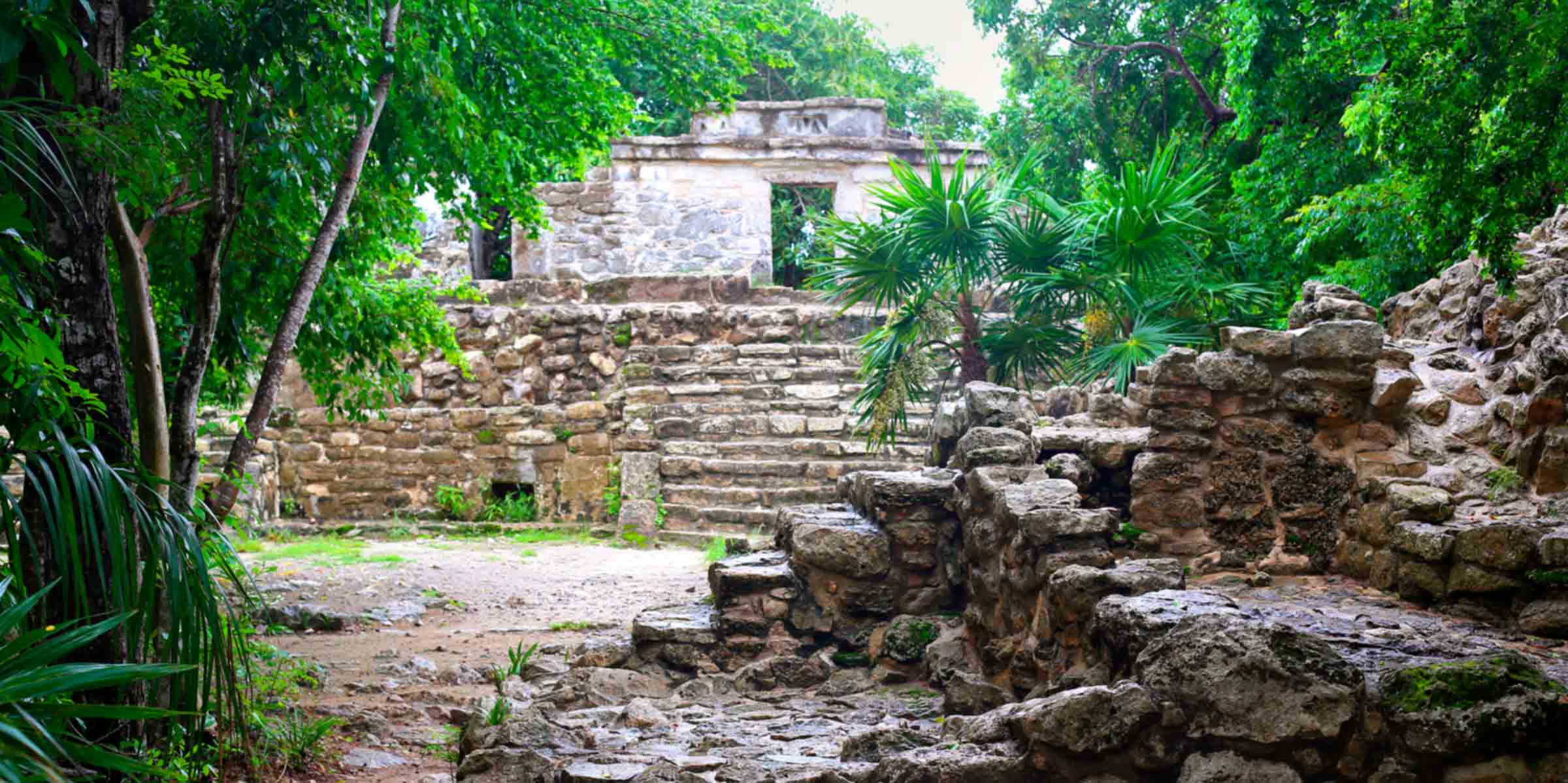 San GervasioArchaeological Zone
This pre-Hispanic settlement, located in an old cattle ranch on the island of Cozumel, was baptized in the twentieth century with the name of the owner saint. Today the archaeological site of San Gervasio is the most important in the region. In addition, it was not only a Mayan sacred center but a strategic site for trade and political development in the area.
The site is constituted by diverse architectonic groups united by a network of sacbés, or white roads. The first of the sets that can be seen is known as Manitas, the name given by the impressions of human hands that are preserved on the interior walls of the main building. You can not miss these ruins if you visit the island of Cozumel, it is located only 55 km from our resorts Catalonia Riviera Maya and Catalonia Playa Maroma, you have to take into account that to reach the Island of Cozumel it is necessary to take the ferry that leaves Constantly from Playa del Carmen.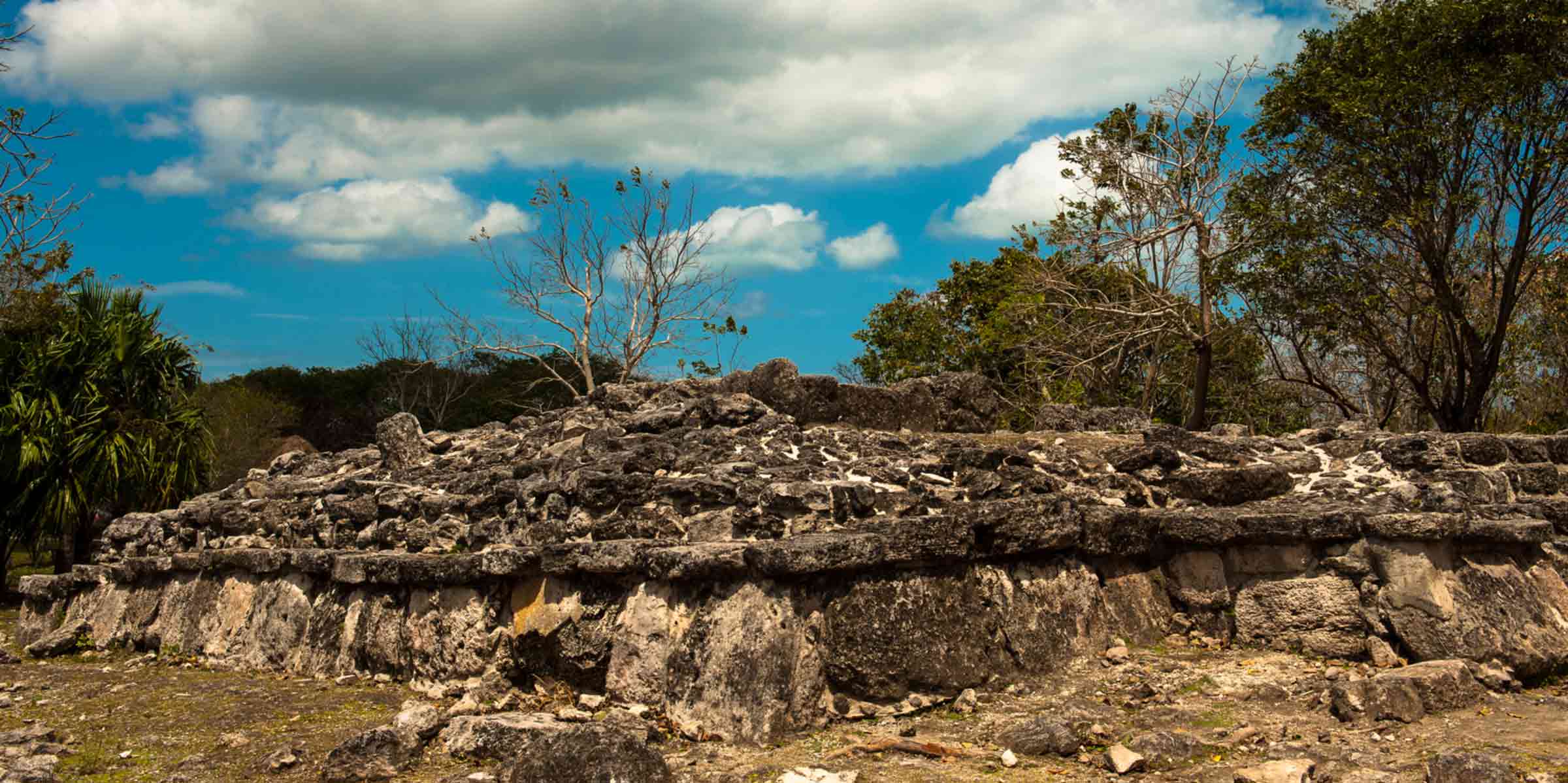 On your next visit to these ruins remember to follow the indications and guides to ensure the protection of the environment and preserve the historical and cultural heritage for this we present some recommendations to follow for your next visit to these unbelievable ruins.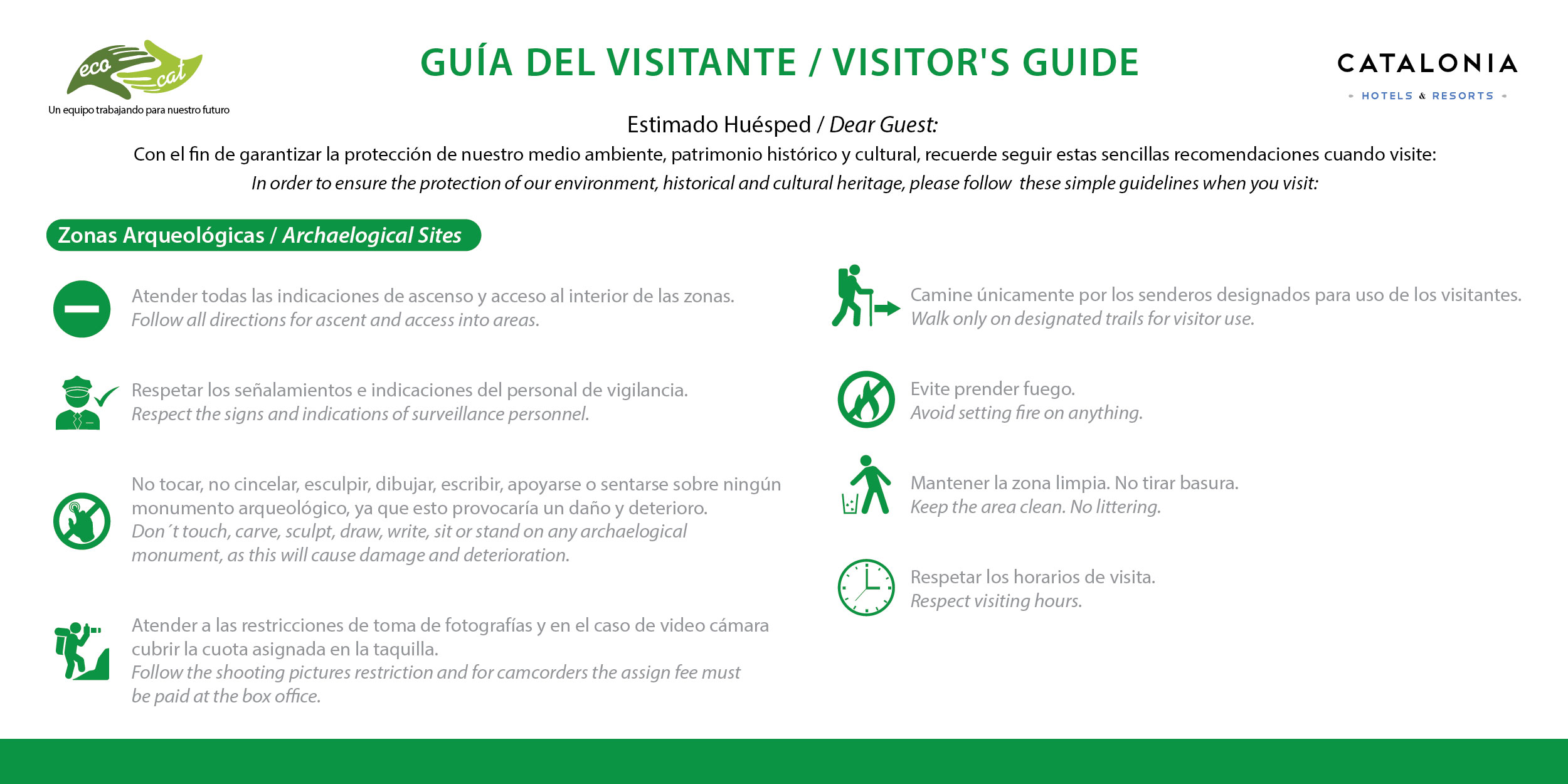 The next time you stay with us, you can not miss the opportunity to learn more about this wonderful civilization by visiting these sites that we recommend, we are sure it will be a great experience to share with your friends and family.