San Sebastian is among the most exciting cities in this Basque country. It has a rich culture and history that draws tourists from every corner of the world. Whether you are looking for a honeymoon destination, a couple's trip, or a family trip, you can be sure to have unlimited fun at San Sebastian due to its beaches.
While on the beaches, you get a taste of exquisite foods, drinks, and music. But which beaches should you head to first? Here are five of the best beaches in San Sebastian.
Zurriola beach
Are you looking for a trendier and fancier crowd? Located 1.5km from San Sebastian's city center, this golden sand beach is for you. From the look of the crowds, you will find younger people walking around and participating in various watersports, such as surfing. Others fancy playing football and volleyball near the beach, which is exciting.
Since it sits between Kursaal's iconic cubes and Mount Ulia, it is perfect if you are looking for a stroll along an isolated area.
La Concha beach
This beach stands near Kontxa Pasealekua, an iconic boardwalk in San Sebastian and is 0.8km from the city's center. It is among the most iconic and famous beaches in San Sebastian due to its urbanity and a perfect place for tourists looking for an urban and luxurious touch.
The beach is historical and surrounded by various landmarks such as the nautical club, the city hall of San Sebastian, and other architectural inspirations. From this beach, you can enjoy exciting views of Santa Clara island and access it via boat. However, the boats are only available during summertime.
Santa Clara island beach
Located 700m from Concha's beach, this island beach has one of the most scenic shores. It is an exclusive bay that only opens its doors during the summer season.
Looking around, you will notice a lighthouse and a small dock, making it a secluded area. It is close to the city center, and ideal for people looking for peaceful boat rides to the mainland and back.
Zarautz beach
If you are looking for something different from all the other beaches, Zauratz is for you. The beach is 20.4km from San Sebastian's city center and offers you a more secluded environment as it is in the Zarautz village.
It is famous for activities such as surfing, and you can try it out with your friends and family. It also has a long beach line; you can enjoy long walks without bumping into people.
Ondarreta beach
Do you want somewhere you can spend with your family and children? This beach is 1.6km from the city center, sits at the western end of the city center, and is close to both Concha beach and Santa Clara island.
It is the primary family hub of all the above beaches and is ideal for even your young ones. While at Ondarreta, you will enjoy beautiful views of mountains and boats at the bay.
Where to stay in San Sebastián
San Sebastian is a very touristic city with lots of hotels and accommodation options. While there are many hotels in San Sebastián, none of them come close to Catalonia Donosti Hotel. As the name suggests, it is a Catalonia Hotels & Resorts facility and you can be sure to get the best.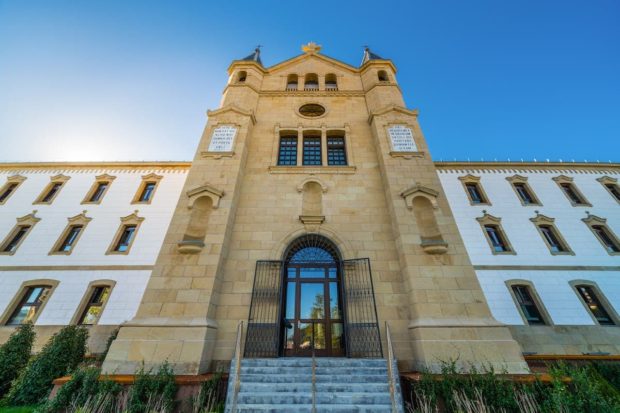 It stands out as it offers visitors a panoramic view of La Concha and the San Bartolome hill. It is located only two minutes from the cathedral and ensures visitors have unlimited access to the city.
The hotel is set in a convent that was used in the 17th and 18th centuries. As such, it maintains the original shape and has lots of historical elements that are all protected by the Patrimonio Urbano Heritage (Urban Heritage) organization.
With perfect proximity to Aldapeta Gastrobar, you will surely enjoy your stay at the hotel.
And there you have it! These five are the most exciting beaches in San Sebastian and should be on your bucket list. Ensure you visit at least three of them and let us know the kind of experience you have. Don't forget to take photos to reminisce about the good times.