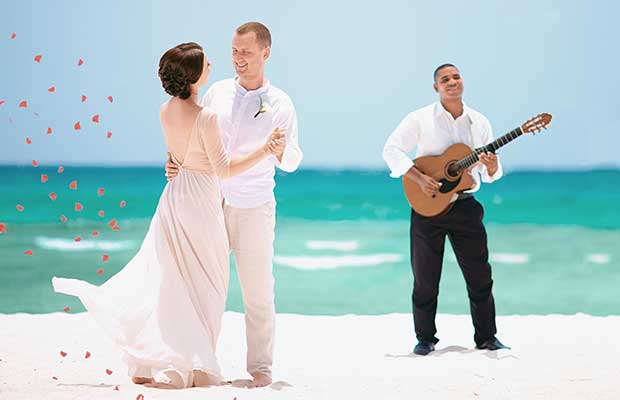 If you feel prepared to take your relationship to the next level, nothing is more romantic than a unique marriage proposal in Punta Cana and Bayahibe
Amazing views, sublime scenery and the vibrant colour of the Caribbean awaits you for the perfect proposal. Therefore, here are some ideas for a perfect marriage proposal.
1.-Romantic Dinner on the beach
This is one of the best ways to say "Will you marry me?". Imagine the perfect dinner in front the sea, by lantern or surrounded by torches. Who could resist this perfect moment?
2.-Roses and champagne
Give a unique touch to your proposal in a gazebo in front the sea. Wait for it with a red rose, path of petals and champagne. All prepared to hear:"Yes".
3.-Sunset surprise
Surprise your partner with a serenade at sunset on the beach. Declare your love in a heart made with rose petals while listening to the notes of your favourite song.
4.-"Marry Me" on the beach
Each petal is placed on the sand in a delicate and perfect way to form the words: "Marry me". Await to her or him standing or kneeling with a red rose next to this love sign.
5.-Intimate romantic proposal
Have an intimate and romantic moment in our room for couples. Rose petals, champagne, chocolates, balloons and candles … These are some of the details that can make this marriage proposal unforgettable.
6.-Room service proposal
Surprise your partner with an unexpected detail! Request a special amenity to the room and let her or him be surprised to receive it with the note: "Will you marry me?"
7.-Love in the garden
Relax with a couple's massage surrounded by palm trees, trees and lakes in our garden. And when the time is right, propose marriage in that paradise of serenity. We assure you that it will be a moment you will not forget!
8.-A very lively proposal
The animation team will be your accomplice in this adventure. During the daily activity on the beach or pool, your partner will be invited to participate. Everything will be ready for you, disguised as one of our characters to ask the 'big question'.
9.-Showtime proposal
The evening variety show has a different touch this week since your partner will be in the show. Several young people place objects in her hands and now, blindfolded, she must discover what they are until finds the engagement ring.
10.- Love on fire!
Show her/ him how hot is your love with a sign made with cold fire. Let the question: "Marry me?" become a memorable light show.
Let us accompany during this special moment! A romance planner is ready to help you make this experience memorable in our resorts All-Inclusive in Punta Cana and Bayahibe: Catalonia Bavaro Beach, Catalonia Royal Bavaro, Catalonia Bayahibe and Catalonia Royal La Romana.
Contact us by sending an email to dominicana.eventos@cataloniahotels.com