With fantastic weather throughout the year, Tenerife makes an excellent choice for those looking for the best place to go for surfing in Spain for beginners. Located just a few degrees north of the Tropic of Cancer, the powerful swells of the North Atlantic make this island a top spot for fantastic surfing experience and with strong offshore winds to help, other water sports are available all year round. Read on for our guide to the top three Tenerife surf spots for beginners.
Surfing is a fantastic experience on the island throughout the year, but those who live on this surfer's paradise in the Canary Islands rate October to February as the best months as part of the Tenerife surf season which lasts from September to April. If you were to take a look at a surf map Tenerife, you would see three places that really stand out as perfect for beginners to safely hit the waves.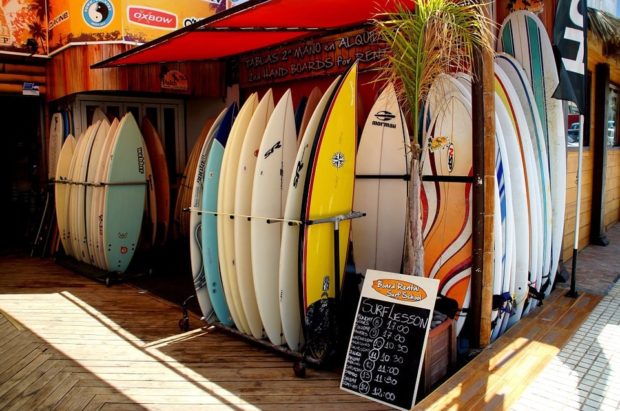 The water temperature in the Canaries is fantastic for surfing all year round, but you are advised to wear a 2mm or a 3/2mm wetsuit if surfing in the winter months. In summer you can surf without a wetsuit. In summer the temperatures hit around 22 °C whilst in winter they drop to around 18 °C which is a little chilly even for the most hardened of surfer. Wear suitable footwear to protect your feet from urchins on the sea floor and jagged rocks.
El Arenal
Located in the north of the island, near Punta del Hidalgo and within driving distance of the capital city this is an exposed beach with consistent surf which produces both left and right walls which make it ideal for goofy and regular footed surfers. Surfing here is at its best at mid-tide when there is a two to three-foot swell.
El Conquistador
In the south of the island on the Costa Adeje near Los Cristianos, is this brilliant beach. With a left and right-handed wave which works best from waist height and holds over-head as well, the middle section of the wave here is perfect for learning turns before the last section of the wave walls up steeply.
La Tejita
Another hot spot for surfing in Tenerife south, this beach is located near Las Galletas and El Médano. Probably our top choice for beginners, the waters here are crystal clear with a sandy bottom beach setting. The left- and right-hand waves here are perfect for beginners, with a south to south east tail and three to four-foot winds coming from the North and North West. A fantastic choice for a full day's surfing, whether you are a novice or an expert.
To finish, and as an extra, if you want to know more about beaches in Tenerife, visit the article.
Where to stay on your surfing break
To enjoy everything that Tenerife has to offer, whether it is the best weather in Spain all year round, good food and a town with plenty to do, you need a hotel which offers a relaxing stay.
The Catalonia Oro Negro Hotel in Playa de las Americas is a top choice if you are looking for hotels in Tenerife. An on-site adults' swimming pool which is heated in winter sits alongside a children's pool and there is a solarium and hammocks for the ultimate in holiday relaxation after a day on the surf beaches in Tenerife. Playa de las Americas is one of the island's best places to visit whether you are on holiday as a family as a family or as a couple. The hotel is located near the town centre where there are fantastic restaurants, bars and amazing nightclubs and is only eight minutes on foot from the beach.