Are you looking for a new beach experience? Well, head straight to Tenerife. This island has exciting volcanic beaches with cliff-clasped backdrops that you will love in your photos and what's more, the north part of Tenerife island is incredible. Whether you are traveling with children or friends, Tenerife has something for you. Here are the top 5 fantastic beaches you will love.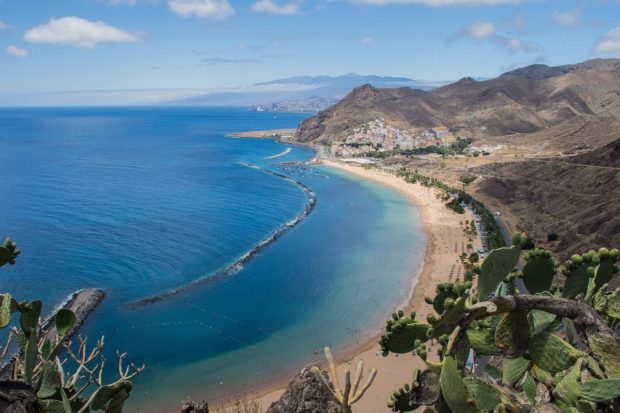 Torviscas beach
In the list of beaches, Torviscas beach is among those with the cleanest water. It is located in Costa Adeje, Santa Cruz and has calm waters and is perfect for swimming.
With unique beach umbrellas, Torviscas is ideal for relaxation, especially during sunny weather. If you are looking for a more upmarket beach, then Torviscas is your ideal destination.
Puerto Colón beach
Have you tagged your children along? Located in San Eugenio, Playa Puerto Colon is your ideal destination. It has clear and calm waters that often shade the shoreline turquoise. This makes it a beautiful scenery for photos, especially early in the morning or the sunsets.
With inflatables in the water, your kids will enjoy the deep waters as you relax by the shoreline. Strolling around the beach, you will also find restaurants where you can enjoy amazing Spanish cuisine.
Las Vistas beach
Playa Las Vistas ranks top among the best beaches in Los Cristianos. It is a man-made beach with white sand. Given that it is artificial, it is well crafted, and you will find all the necessary facilities. With the Vista Sur shopping center a few steps away, you can shop as you enjoy the breeze from the shores.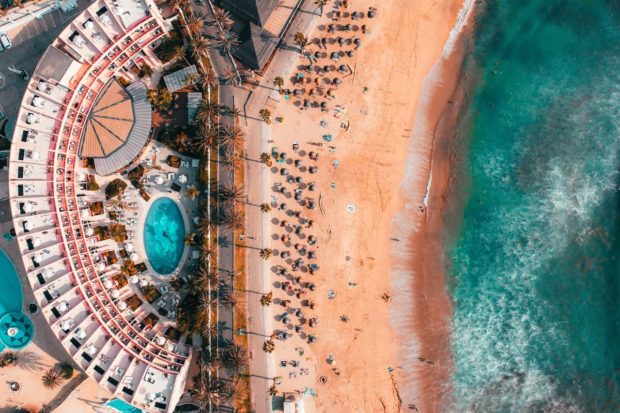 Its shoreline waters are shallow, making it perfect for children as the waves are minimal. If you want to go deeper, you can hire inflatables and explore.
Duque beach
The Duque beach is among the most popular beaches in Tenerife. With thatched umbrellas and sunbeds, the beach gives a chic and upmarket setting. You will also find blue and white huts where you can spend quality time with your loved ones as you explore this part of Costa Adeje.
As you sunbathe on the volcanic sand beaches and turquoise waters, you can also explore the restaurants and taste Costa Adeje's best eats. With its soft-sand bays, your children will truly have fun.
El Medano beach
Situated in Cabo San Lucas, El Medano has a long beach with much space to work with. While it is an all-rounded beach, it mostly appeals to water sports lovers due to its windy nature. Its gentle waves and stiff winds make it ideal for windsurfing, paddleboarding, kite surfing, and other watersports.
While with children, you can walk around the beach in the shallow waters and into the restaurants and joints. This gives you a perfect chance to see Montana Roja's volcanic cone and a beautiful backdrop for your photos.
If you have already decided to visit Tenerife on your holidays, then you must know what to eat to make the most of your experience. Read our Tenerife food guide and enjoy Tenerife food.
Where to stay in Tenerife
Due to its beautiful beaches and long coastline, Tenerife experiences a huge number of visitors all year. This makes the hotel industry very lucrative, and you will find various options. But where should you stay among all the hotels located in Tenerife? Why do not your try close to Catalonia Oro Negro?
This four-star hotel is located in one of the few areas of Playa de las Americas and just a few minutes to the leisure center. It is only 800m from the beach and gives you a chance to explore the golf course. Considering its less than 1km from Playa de las Americas, it is a perfect place for you.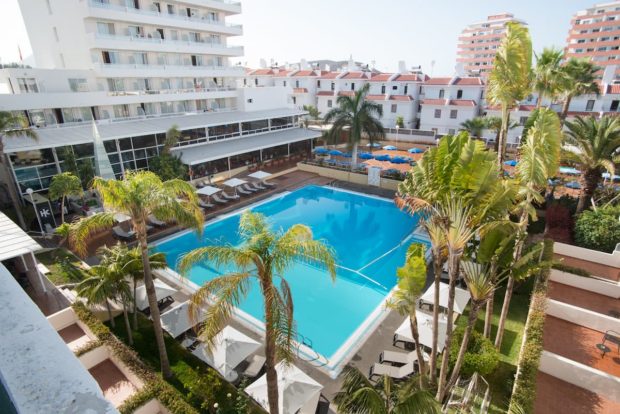 Given that it is a Catalonia & Resorts hotel, you can expect state-of-the-art facilities and excellent services including a huge outdoor swimming pool that's heated in winter.
As you can see, Tenerife is a beautiful destination for sunny holiday lovers. Its beautiful beaches have volcanic sand and the perfect environment for parents and children. Whether you want to participate in watersports, walk along the beach, or just lay down and sunbathe, you can be sure to find the perfect beach in Tenerife.